Part Time English Teacher, Part Time Pilates Pro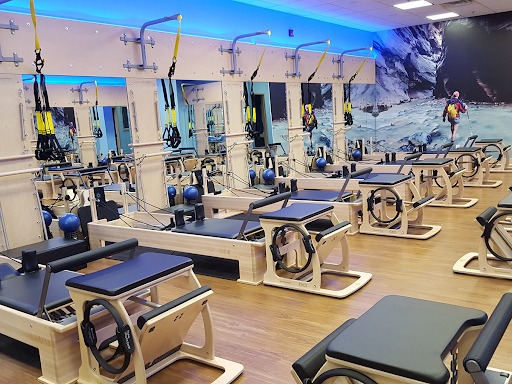 Humans of South Lakes, every Seahawk has a story.
There are two places you are most likely to find Ms. Small. The English hallway at South Lakes High School, and the pilates studio, Club Pilates where she is an instructor. Her journey to becoming a pilates instructor was an unexpected one that began in August 2020. "I had been practicing yoga for about 20 years and during the pandemic, my yoga instructor started teaching mat pilates zoom classes . By doing these classes I noticed a dramatic change in my fitness," says Ms. Small. Soon after, she discovered Club Pilates and took the sample class. Instantly, she was hooked! "I started feeling better. I had less pain in my body," she further explained.
When Ms. Small first started doing pilates, she had no plans of becoming a certified instructor. "It was totally an impulsive decision, I had originally started doing it for fitness purposes," she said. Becoming a pilates instructor is a lot of work. You need to attend teacher training classes and complete the course in order to get certified. Despite this heavy commitment, Ms. Small stayed motivated and committed while earning her certification.
Obviously, English and pilates classes are very different, however, there are some similarities seen from a teacher's angle. "Having a beginners mindset is a very healthy thing to have while learning a new concept," she explains. This idea can be used from a students perspective, but also a teacher's perspective. For Ms. Small, teaching English is something she is used to, but teaching pilates is something totally different. "The pilates thing was totally brand new to me. I had to learn about human anatomy, muscle functions, and all these different exercises," she adds.
Who knew that one day at a pilates teacher training Ms. Small would bump into a fellow South Lakes student in the same position as her? Mia Sande, junior, is currently in the process of becoming a certified pilates instructor. "I started talking with Ms. Small while I was waiting outside the teacher training studio," she said, "Ms. Small started talking about her job as an English teacher, so I asked what school she taught at and she replied, 'South Lakes.'" The two formed a bond and started carpooling to the training sessions together. What a small world!