Orchestra's Winter Concert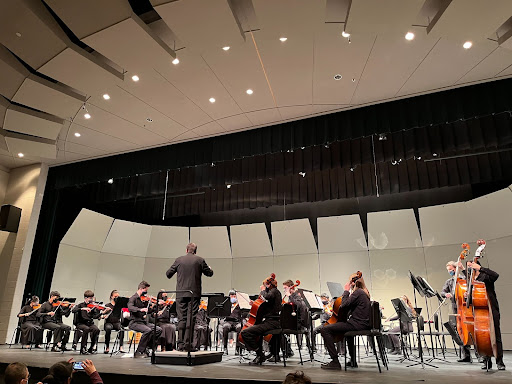 On December 7th, the orchestra department gathered in the SLHS Little Theater to play their annual winter concert. The program featured a variety of music from festive Christmas tunes to lyrical jazz pieces.
The Concert group energetically opened the night with "An English Folksong". The Symphonic group followed with "Still, Still, Still", which was said to remind the audience of falling snow. And finally, the Chamber group ended the concert with a crowd favorite performance of "A Charlie Brown Christmas" featuring percussion and multiple solo performances. By the end of the show, the audience's holiday spirits were restored for the upcoming season.
This Winter Concert was one of the Orchestra department's first in-person performances since the beginning of the pandemic. In the virtual school setting, students spent class time using platforms such as SmartMusic, which allowed teachers to assign music for students to play. While this music-learning software provided a way for students to continue playing music throughout the pandemic, it often presented challenges. Sometimes, the recording mechanisms would be delayed, and other times, SmartMusic just wouldn't allow students to log in to its software.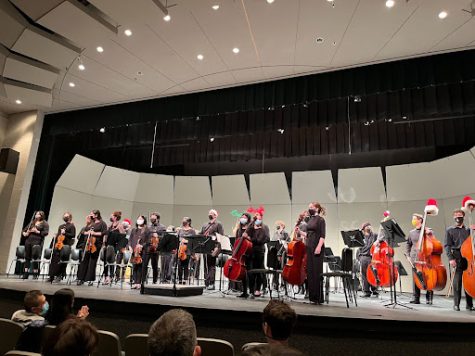 So, after a year and a half spent in virtual school, students and teachers were ecstatic to finally be able to play together in a concert. "I very much enjoyed playing with my classmates again after not being able to play with them for over a year and a half. It's very different having orchestra class online. Nothing compares to being in-person," said sophomore, Lauren Roehr. "I am just over the moon to play concerts in-person again. It's the most important part of my job," said director, Mr. Baldwin. Transitioning from playing solo for almost two years, to once again being a part of a group "was like coming home", he adds. The orchestra department had been rehearsing this music for almost two months, and the hard work surely paid off to make a wonderful winter concert.
Now, the orchestra begins sight reading and preparing for their next concert in February, before students perform at their pre-assessment!