Why You Should Listen to Fourth Electric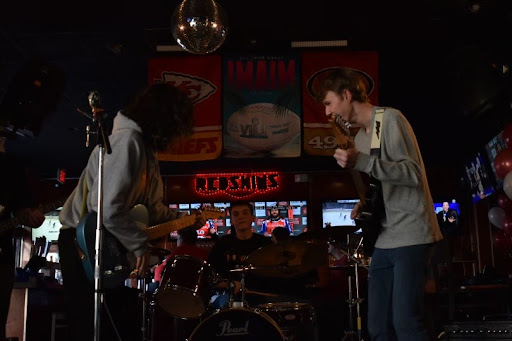 Fourth Electric is a vessel for music, dance, and personal expression. The band, created in the summer of 2015, consists of four South Lakes students. Fourth Electric includes drummer Eddie Schoenborn, bassist Elijah Bishop, guitarist Charlie Moore, and Kacey Banga, a vocalist and guitarist.
Many are curious as to how Fourth Electric was originally created and why they call themselves Fourth Electric. During an acting summer camp, the four were all backstage discussing how much they loved to play music. This conversation sparked the idea that they should collaborate and start a band. After they decided to form a band they had to come up with a band name. Eddie also noticed that there was a set of lights labeled first, second, and third electric backstage. Eddie liked the sound of Third Electric, but Kacey recommended they name their band Fourth Electric because there are four members in their band.
Most of Fourth Electric's gigs are performed live. They have performed at South Lakes, the Reston Farmers market, Kalypso's, and the local Battle of the Bands. They are looking to perform more as the weather begins to get warmer. At their various gigs and events, they have different t-shirts, stickers, and merchandise. I was told by Kacey Banga, 11th grade, that "you can only get t-shirts and stickers at gigs; and you can only get a shirt or sticker if you dance and have fun". Recently, they had tie-dye shirts at the South Lakes block party.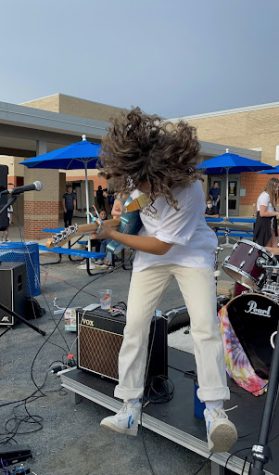 Eddie Schoenborn, the drummer of Fourth Electric, classifies Fourth Electric as a combination of classic rock and funk. This combination is more modernly known as indie rock. Eddie's most significant musical influence is Mitch Mitchell from the Jimi Hendrix Experience. Eddie admires how he brings a jazz-oriented mindset to a rock band. Mitchell was initially a jazz musician in England until Jimi Hendrix approached him and asked him to join his rock band. Elijah, the band's bassist, prefers a different genre of music. Elijah likes soul and funk musicians from the 70s. His inspiration comes from Curtis Mayfield as his funk and soul style influence his bass playing.
Kacey and Charlie have more modern influences. They prefer more modern or smaller indie bands and artists such as Peach Pit, Mac Demarco, and Wallows. Even though they listen to more modern music, Kacey's biggest influences are Santana, Jimmy Hendrix, and John Mayer, while Charlie idolizes Tom Misch because he combines the genres of rock and jazz. As a guitar player, she has a lot of respect for them. There is great diversity in Fourth Electric's influences and inspirations: Kacey "loves that they all have different music tastes and bring other things to the table while writing". She also stated that Elijah is good at coming up with unique baselines that don't repeat; he can freestyle and stay very fluid.
Fourth Electric's talents help them come together and create great music. The band has been together for six years now, and when they practice, there is never an exact plan. They sit down, jam, and enjoy playing music together. Although it can be stressful, Fourth Electric loves that they solely run it. It is their responsibility to manage their own money and plan their gigs. Although, it can be hard as they are each on different schedules, and deciding what to spend money on and what to cut back on is difficult, but they believe it is always worth it. It's up to them to handle their responsibilities, which they feel is an important skill to learn.
Eddie loves Fourth Electric because he loves his bandmates. He loves "the intimacy and exhilaration of songwriting and improvising" with them. He also loves the feeling and thrill of sharing music with others in a live setting. Most of all he loves watching people dance to the product of their collaboration. They are excited to grow as musicians together over time.