Five Comfort Shows for Fall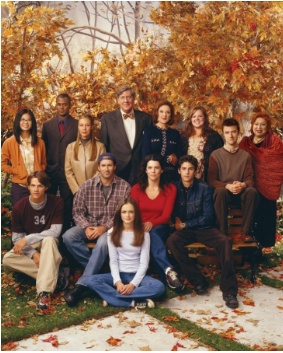 With crisp fall weather and cinnamon spices swirling through the air, fall is the best time to settle down with a mug of hot cider and watch your favorite comfort show.
To start off, the classic sit-com Friends (1994) that boosted the careers of actors Jennifer Aniston, David Schwimmer, Courtney Cox, Matthew Perry, and Matt LeBlanc has been a comfort show for many over the decades. Some say it never gets old. The show is about six friends going through life with each character's lively personality keeping you glued to the screen. The crew's witty jokes and quick comebacks make them fit together perfectly to create some of the best on-screen chemistry on television. Friends is currently available on HBO max with a rating of 79% rotten tomatoes.
Another option is Gilmore Girls (2000), a show about a heartfelt mother-daughter relationship set in a tiny town in Connecticut called Stars Hollow. Fans of the show range over all ages and adore the clever characters and the family-dynamic. Over 7 seasons, the girls undergo all kinds of relationship questions (both romantic and family-related). The show's ability to wrap you with the character's emotions keeps fans coming back for more. Gilmore Girls has an 87% rotten tomatoes rating and is available on Netflix, Primes Video, and Apple TV.
If you thought that cartoons were just for kids, think again! Over the Garden Wall (2014) is an animated show about two young brothers who get lost in the woods. The series is eerie and unique, somehow still making viewers feel tender and happy. Fans love finding hidden meanings in the show's deep plots, and conspiracies can be found on all social media. The show makes you feel like a kid again and is best to watch close to Halloween if you want a spook.The music in the show is worth taking note of for its fairy-tale tone, which ties in with the childishness of the characters. The show scored 93% on the rotten tomato scale. For a Halloween pre-game, watch Over the Garden Wall on HBO Max.
Fall-Fanatics love the 2007 teen drama Gossip Girl. Blake Lively's effortless attraction commands your attention from the first episode. The drama takes place in Manhattan, where a mysterious Gossip Girl spreads text messages littered with scandalous secrets. With the plot taking them through high school and beyond, the girls have careers to worry about and have to find a way to debunk this ruthless anonymous gossiper. The performances from the actors keep you engaged through 6 rollercoaster seasons. Gossip Girl is available on HBO Max.
To finish off the list, A Series of Unfortunate Events, the Netflix series based off of the 1999 book series, is a clever take on a sinister story. The plot consists of a long-winded mystery about 3 brilliant, yet previously spoiled, orphans investigating their parents' sudden death. As their lives seemingly crumble beneath them, they have no choice but to use their wits to help them escape from their evil new caretaker. Quick-witted characters such as Count Olaff, played by Neil Patrick Harris, give the show a bright boost of comedic relief to balance off the ominous plot. The series has received 96% rotten tomatoes since its release in 2017.
If you are looking for fall-themed entertainment, these shows are worth watching!