Taylor Swift announces new tour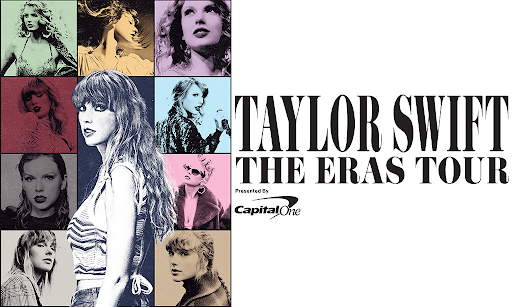 Taylor Swift has announced her new "The Eras" tour following the extremely successful release of her tenth studio album Midnights. She announced it on Good Morning America on November 1st, exclaiming "[she's] been planning for ages." Swift is known for going on GMA to grant additional details about her projects, as she announced Fearless (Taylor's Version), promoted her Lover album in 2019, teased Reputation in 2017, and many more. Taylor's fans have been waiting for a tour announcement for a while, especially since it's been five years since her last tour, the Reputation Stadium Tour.
Her new album, Midnights, was released on October 21st at midnight. It has broken many records,even "scoring one of the most historic weeks in the 64-year history of the Billboard Hot 100 songs chart, as she becomes the first artist to claim the survey's entire top 10 in a single frame" according to Billboard. This is also the first time there have been no men on the Billboard charts. Taylor herself went on Twitter to express her excitement, saying: "10 out of 10 on the Hot 100??? On my 10th album??? I AM IN SHAMBLES."
With the tour being called "The Eras," it has raised questions on what exactly is a Taylor Swift era. When she releases a new album, a new era arrives: new aesthetics, new fashion, and possibly a new genre. Over the years, Taylor has matured, and it was reflected in her music.
Taylor has partnered with Capital One to make sure her fans have the best chance to experience her tour through a verified fan presale. Her partnership with Capital One means that "Capital One cardholders can receive access to premium presale tickets" according to her website. Originally the plan was for there to be a Verified Fan presale, Capital One presale, and then general sale. Because Taylor Swift is a huge popstar who has many fans, Ticketmaster has said there was "an unprecedented demand" of Taylor Swift tour tickets and general sale has been canceled because majority of the tickets have been sold during Verified Fan presale.
Verified Fan presale is a way that Ticketmaster can ensure that the tickets reach real fans, not bots and resellers. Although presale has already ended, some of the people who signed up got codes, and others got boosts from buying merch and having bought Lover fest tickets in 2020 (which got canceled due to Covid). Although the point of Verified Fan presale is to make sure bots and resellers don't get tickets, this time they did and tickets are being sold for thousands of dollars. General sale tickets are available to everyone, including the general public.
Taylor has many opening acts including Paramore, Phoebe Bridgers, Gracie Abrams, Beabadoobee, HAIM, Girl In Red, MUNA, OWENN, and GAYLE. She has expressed her excitement for their joining tour on Good Morning America exclaiming, "I have brilliant opening acts coming along with me and really, I'm just excited I get to look you in the eye and say thank you for everything…". Taylor herself has said she'll be releasing international dates soon, so keep an eye out.