Biggest hit albums of 2022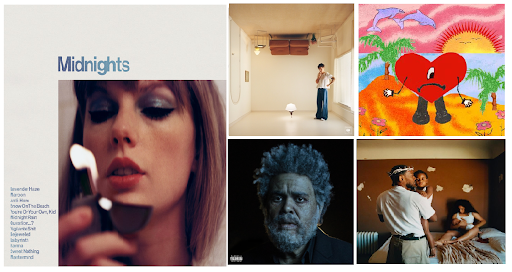 The year is coming to an end, and we have the best albums this year. After the pandemic, many artists started projects and they were given the time to create their best albums. This year showed the dedication artists put in their albums. Here is a list of the biggest hit albums of 2022!
1. Harry Styles – Harry's House
Harry's House, released May 20th, 2022, was one of the biggest albums of this year. The album was able to sell 515,421 units in total. In the first week, 320,000 units were sold. Harry was inspired by his time in Japan, where he found a Japanese musician, Haruomni Hosono. He decided to make an album inspired by the 1973 album, Hosono House.
2. The Weeknd – Dawn FM
The Weeknd had a huge influence on music and after his release After Hours everybody awaited his next big hit. On January 7th, 2022, Dawn FM was released with great praise. The album took the appearance as a radio show, and this was one of the Weeknd's most unique albums. Dawn FM hit No. 1 on Billboard's Top Album Sales Chart, and it has a special guest, Jim Carry, as Dawn FM's radio host.
3. Kendrick Lamar – Mr. Morale & the Big Steppers
Mr. Morale & the Big Steppers is another classic. The album was released on May 13th, 2022, and contains themes of love and grief. The song tells deep messages and that can be heard multiple times. Mr. Morale received eight nominations at the 65th Annual Grammy Awards, including Best Rap Album and a historic fourth nomination for Album of the Year.
South Lakes Student, Diego Munguia, said: "This isn't just an album, it's an art piece. From the lyrics to the features, it's perfectly used to tell Kendrick's story of what he wants to portray through each track. This is not an album only meant to be listened to once, it's an experience that takes listening to understand."
4. Taylor Swift – Midnights
Taylor Swift is an amazing ground-breaking talented songwriter. She has won many awards and has received three awards for her latest album. This album was conceptualized by Swift herself, and stated: "We lie awake in love and in fear, in turmoil and tears." In the first week after its release on October 21st, Midnights sold 1,578,000 sales in the United States. Her concert tickets sold out entirely as well on TicketMaster.
South Lakes Student, Nicole Luna, said: "I felt like it brought a new type of style. People on the internet often assume that Taylor's music brings up the same ex-boyfriends. However, I think that her brand new songs reveal a new side of her. Taylor Swift's songs aren't about her boyfriends anymore, but rather, about her instead."
5. Bad Bunny – Un Verano Sin Ti
Un Verano Sin Ti (A Summer Without You) is another great studio album by Bad Bunny. It was released May 6th, 2022. This album has a vocational theme, and bridges diversity and culture together, and it was a huge hit to Latinos and Americans alike. Surprisingly, Un Verano Sin Ti was the only Spanish album to be nominated for in the Grammys. Other than that, the album has received great acclaim.
2022 was a great year for music, bringing new creativity and ideas on the table. Many artists have written and included unique themes in their songs. For example, artists such as Kendrick and Taylor bring in themes such as love and hate. Hopefully as the year wraps up, 2023 will arrive with more new content on the table.