Starbucks holiday flavors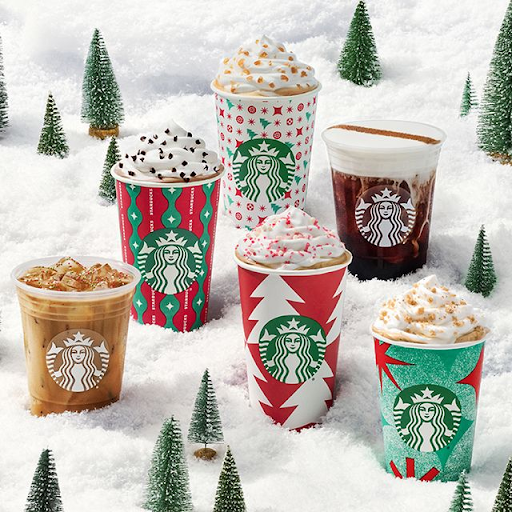 Every winter, Starbucks presents infamous seasonal delights that many look forward to all year. They do well at putting out a variety of treats every year that many can enjoy.
Starting with possibly the most popular drink, the peppermint mocha. This chocolatey-mint drink is made with espresso, steamed milk, mocha sauce, peppermint-flavored syrup, whipped cream, and chocolate curls sprinkled on top. All of these flavors mix wonderfully together with every sip, making this drink a must-try for many.
The next drink to try is the caramel brulée latte. This drink tastes as good as it is fun to say! This rich latte has caramel brulée sauce, espresso, steamed milk, whipped cream, and caramel brulée topping. Although newer, this drink definitely has its group of fans who swear by it.
The newest drink that is taking over is the iced sugar cookie almond milk latte, especially over this past year. This drink combines sugar cookie syrup, blonde espresso, almond milk, and is topped with sprinkles. If cookies are your favorite in the holiday season, give this drink a try.
If drinks aren't your thing, Starbucks also has a plentiful amount of yummy food, as well.
One popular treat this season has been the sugar plum cheese danish. This danish has cream cheese filling, topped with spiced sugar plum spread. If you enjoy a fluffy flavor, this treat may be for you.
For a fun-looking food, you can try the reindeer cake pop. Although it is just vanilla cake with chocolate icing, the design on top makes it special. The decals on this pop make it look just like the classic Christmas character, Rudolph the Red Nosed Reindeer!
Starbucks never fails to celebrate the holiday season. If you are looking for a festive way to fill your stomach, head over to your local Starbucks and give one of these tastes a try!