A glimpse behind the scenes – Josh Lewis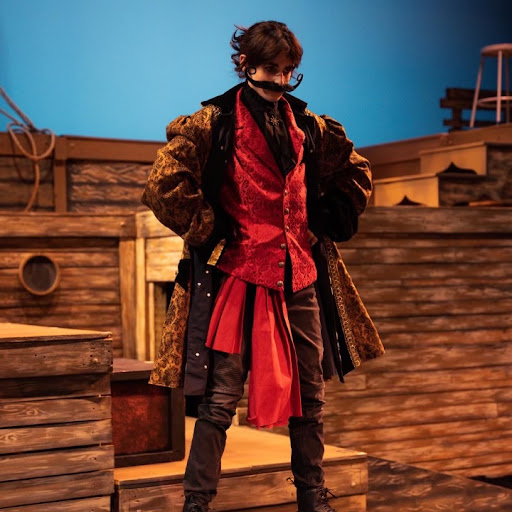 Josh Lewis, a South Lakes Junior, is most well known amidst the theater department for his achievements within the arts, the various shows he's performed in, and the relationships he's developed amongst the community. His reputation on and off stage has always been regarded positively, and yet there is always more to be known about the person behind it, like how he got here and where he's going.
Josh has immersed himself in drama since a very young age, remembering his grandparents taking him to see shows at the community theater and becoming interested in performing for the first time. He began participating in school plays/musicals when he was in fourth grade, and plans to continue this into his future. He later joined programs outside of school such as Reston Community Center's (RCC) Young Actors theater, and more recently the RCC Apprentice Program.
The transition from elementary and middle school theater to high school theater, he remarked, served as a challenge on his perspective of the art, "It is [more] similar to real world acting and there's a larger quantity of aspects that go into it." He adds that there is a degree of preparedness needed for more professional shows that wasn't demanded of him previously. Josh understands this and comments on how he typically prepares for most roles he takes on, "The first thing I do, before I even get cast—before the auditions, is I listen [and] I watch different performances of the show. I focus on the characters I want to aim for, and then I try to channel what I see but also put my own spin on it." Being knowledgeable about the character you want to play can add substance to your audition and prove your level of commitment.
Through this expressed dedication and passion for acting, Josh has been cast in multiple South Lakes shows including: A Christmas Carol (Tiny Tim), Puffs (Oliver Rivers), Crazy For You (Bella Zangler), Peter and the Starcatcher (The Black Stache), and will soon perform in Bright star, the departments upcoming spring musical, as Mayor Josiah Dobbs. While he recognizes that typically he is cast as the comic relief character, he's excited to challenge himself with this more serious role in Bright Star. He points out that range is important for an actor to demonstrate in order to be successful.
While participating in a number productions often helps an actor gain admirers, it's Josh's involvement in the community that sets him apart from other students. Mr. Viola, the director and teacher for SLHS Theater, commented that Josh is "very enjoyable to work with because he'll try anything and he's a lot of fun to work with…" Josh establishes this by stating that his favorite aspect of theater is the community and collaborating with his peers. He even went on to say that it's one of the most important parts of theater as a whole: the ability to be a part of something bigger than yourself.
Josh's advice for people considering joining theater is that "everyone there is your family, they are people who you can trust and talk to and create lasting relationships and memories with. [It can] feel like an escape from life when you're acting. So I say give acting a try. Join theater because of the community that is involved and the life experiences you can gain from it."