Rihanna shines "Bright Like a Diamond" at the Super Bowl halftime show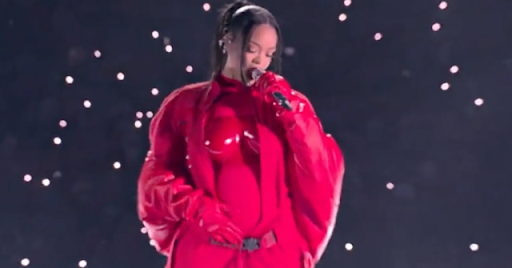 After five years, Rihanna is back and better than ever. She performed at the 2023 Super Bowl Halftime Show on February 12th. Along with performing some of her best songs, she announced her pregnancy and promoted her makeup brand, Fenty Beauty.
Rihanna started her performance with "BBHMM," while singing on a floating platform in the center of the stadium. She was wearing a red body suit which revealed her baby bump, and an unzipped jacket on top. There were about 280 backup dancers who were all dressed in white puffy jackets and with sunglasses on.
The platform slowly dropped as she sang "Where Have You Been" and "Only Girl (In the World)." Afterwards, she sang a mix of "We Found Love," "Rude Boy," and "Work." She then sang "Wild Thoughts," and "Pour it up." Rihanna faced backlash for the choreography displayed at this point in the performance. She was bashed on Twitter for being "too sexual."
There were no guest's during Rihanna's performance,despite singing "All of the Lights," which was Kanye West's song Rihanna was featured in. Instead, she promoted Fenty Beauty by having one of her backup dancers hold her palette while she touched up on her makeup. She then performed "Run This Town" and her huge hit "Umbrella."
She ended her concert with "Diamonds" as the platform rose again. Everyone raised their flashlights to create a sea of light. The visual was incredible.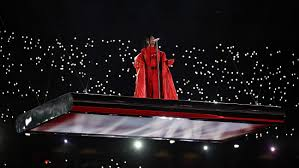 Whether you were watching this performance live or on your tv, it was definitely an enjoyable experience. The Super Bowl LVII halftime performance did not disappoint!