Drop Everything Now: Taylor Swift takes the stage for "The Eras Tour"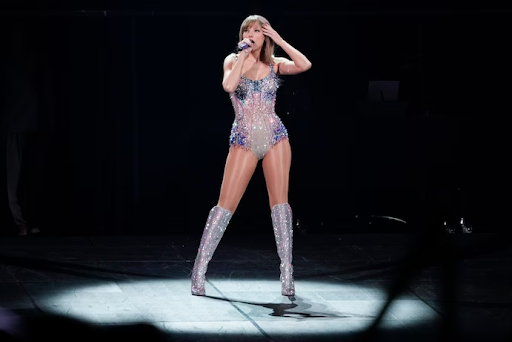 It's been a long time coming: Taylor Swift, the global pop icon, has returned to the stage, this time to celebrate a once in a lifetime prolific career through "The Eras Tour." Though the tour initially made headlines for all the wrong reasons, with the Ticketmaster debacle leaving thousands of fans heartbroken or just plain broke, "Swifties" showed up and showed out for a bejeweled opening night.
The tour kicked off in Glendale, Arizona‒renamed "Swift City" for the occasion‒where fans flew in from all over the country. Swift started her performance with a "Lover" set, picking up where she left off when her planned "Lover Fest" concerts were canceled due to the Covid-19 pandemic. The tour is a journey through all iterations of Swift, with at least one song being performed from each of her albums on opening night, making for a whopping 44 song set list. However, the main focus was on her more recent albums that she has not had the chance to perform live: Lover, folklore, evermore, and Midnights.
The level of production reflected the price of the tickets; the stage takes up nearly the entire floor, which Swift struts up and down in multiple pairs of custom Luobotons. Dramatic scenes referencing lyrics and music videos are projected on a giant screen behind the stage, and fire explodes around her during different songs. At one point, Swift brings out a replica of the wooden cabin that she used during her performance at the 2021 Grammys.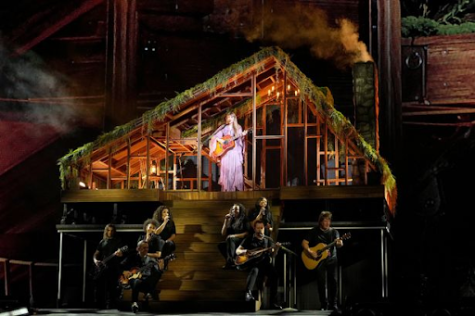 Swift makes several costume changes during the show, in custom outfits from designers including Versace, Oscar de la Renta, and Roberto Cavalli. The outfits referenced themes of Swift's previous eras: she wore a glittery two piece designed by Cavalli reminiscent of her "Shake it Off" look on the 1989 tour, as well as a ball gown designed by Zuhair Murad Couture that is inspired by her "Enchanted" look on the Speak Now tour.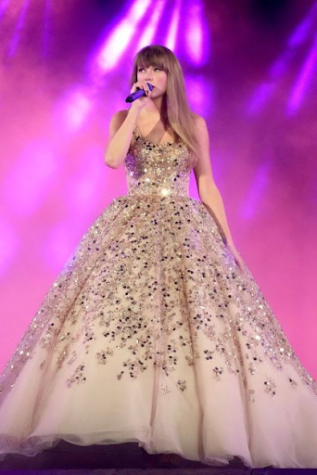 A hallmark of a Swift tour is the costuming, not just from Swift, but from the fans. Glitter, fringe, and glittery fringe was everywhere, and no makeup look was complete without Swift's classic red lip. Those in attendance were dressed from nearly every era of her discography, with outfits ranging from recreations of things Swift has worn before to outlandish costumes that reference her songs. One person dressed up as traffic lights with the phrase "I don't know," across the lights, referring to a line in "Miss Americana & The Heartbreak Prince."
Part of the reason these references are able to thrive is due to Swift's seemingly omniscient social media presence in order to boost her relationships with fans. She joked with the audience in between songs on tour, commenting on how people went above and beyond for the night. Swift even acknowledged a long standing joke among her fans, that she has forgotten about her album evermore, commenting that it is "an album I absolutely love, despite what some of you say on TikTok."
Perhaps most impressive is the sheer size of the tour: 69 thousand people were in attendance on opening night, and Swift will be performing in stadiums with similar capacity for a sold out 52 shows. The downside of this large scale is that it created a bit of a hassle for those looking to participate in anything at the venue. Merch lines were hours long, water bottles ran out, and parking lots were a free for all. On the roads to the stadium, signs cautioned drivers with Swift lyric puns: "CUT OFF? DON'T GET BAD BLOOD. SHAKE IT OFF." "RECKLESS DRIVING? YOU NEED TO CALM DOWN."
"The Eras Tour" is a commemoration of all that Swift has accomplished during her career, and an embellished wave to what the future holds. But despite the increasing levels of glitz and glamor throughout her career, one thing has remained constant. Swift has the stunning ability to capture universal truths in the span of three minutes, with themes that range from love to loss. Ultimately, the tour is a tribute to her storytelling skills, because at the end of the day, a concert is about the songs.