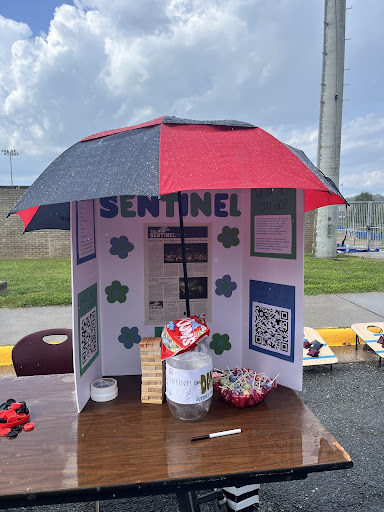 Through rain or shine, the show must go on. Despite intense rain, the sun peeked out just long enough for the annual SLHS Block Party last Friday. Students bustled across the student parking lot which had been transformed with rows of booths, samplings of the colorful student organizations offered here at South Lakes.
Everything from Chorus to Model United Nations to National Math Honors Society had booths, advocating for their student group through entertaining games, informative presentations, and lots of candy.
Chorus
Story continues below advertisement
The Chorus elective, while in the back, caught students' eyes with a life-size cutout of Taylor Swift. They had a spin-the-wheel of a variety of songs for students to sing, having a picture with Swift and some candy as the reward.
"For our spring concert, we sing a lot of pop songs," says Iman Hassan, 11th grade. "We wanted to pick a spin-the-wheel in order to get prizes to incentivize people to come to our concerts, to come to our productions."
Model United Nations
If you enjoy working together with a competitive twist, the Model United Nations club might be calling your name. MUN drew out students' intrigue, geography knowledge and curiosity with a spin on a classic arcade game called Whack-a-MUN with a board covered in international flags. The MUN members would call out country names, and players had a minute to find and hit as many flags as they could with a gavel. The winner was Maytham Ajam, 11th grade, with 44 countries.
"Our club is internationally relations themed, so the whole flags united under one board is truly what we care about," says Madeline Hunt, 11th grade. "[It's about] coming together and solving problems."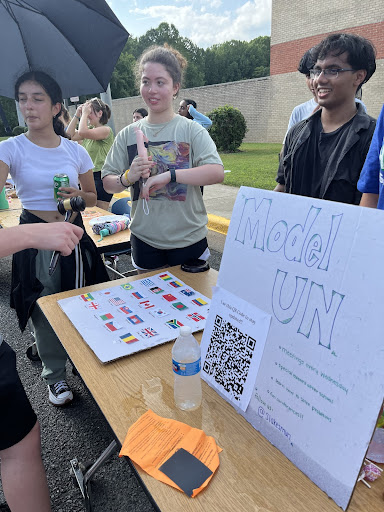 Future Business Leaders of America
Interested in being more involved in your business classes? Future Business Leaders of America is an extension of the business elective who marketed their club through a business-related trivia game.
"So I'm going to ask you a question and if you get it right, you press the bell and you get a piece of candy," says Sophia Turner, 12th grade.
That same knowledge helps FBLA members at their variety of competitions ranging from presentations to video making to testing at different levels. Last year, "[Clara Landeryou and Audrey Jay] passed states and made it into nationals," Turner says.
Cross Country
If exercising and getting fresh air sounds more your speed, the cross country team has got you covered. Their booth was decorated with photos from the various opportunities and accomplishments the track and field team offers from training camps to regular cross country meets to state championships. They had spin-the-wheel to incentivize students to come check out their booth.
"You have to be following our Instagram, and then you can spin the wheel and get a prize," says Rebecca Hobson, 11th grade. "We have shirts, candy,… spin again, and 'do squats' in the spirit of getting fit."
Hobson expresses that joining cross country is a great way to get fit, spend your time, learn discipline, improve your work ethic, and make new friends.
Other booths were focused on recruitment through more traditional presentations with unique twists to each.
Junior Reserve Officers' Training Corps
The JROTC elective caught the attention of students with their crisp uniforms, stunning showmanship tossing rifles above their heads, and rich stories of their accomplishments. The program offers many options with many different teams with various focuses.
"Our Drill team focuses on rifle movements, our Marksmanship is on air rifle shooting, and our Greater team is our exercise based team," says Cadet Captain Merlyn Canas, 11th grade.
The program has so many opportunities outside of South Lakes. "We have our Reston homecoming parade, our New York City veterans parade as well as other things like conferences and conventions."
"We have two more teams: Jlab and Robotics," says Cadet Sergeant Jesse Brown, 10th grade. He explained the two teams were really centered around math, science, and engineering. "There's also Exhibition, so if anyone's seen us flipping rifles, that's us."
"It's just a really fun course to take that teaches you a lot of leadership skills," says Canas.
Ultimate Frisbee
If you're interested in exercise and making new friends, ultimate frisbee is here for everyone. Teammates handed out flyers to students about the sport and their experiences.
"The whole point is to have fun and no experience required," says Jayne Parish, 12th grade.
"It's like football but less aggressive since it's a non contact sport," adds Lily Nguyen, 12th grade.
"It's just super fun, and all the people on the team are so nice and helpful," says Teddy Umbrell, 12th grade. "…it helps you get better!"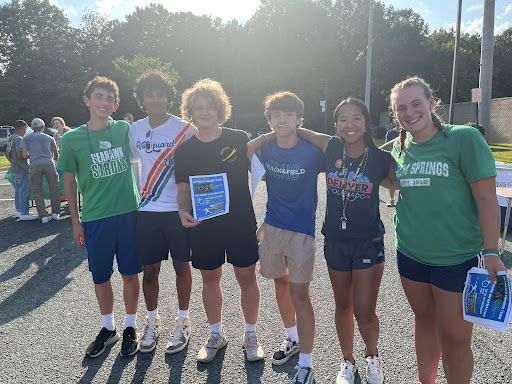 STEAM Team
The STEAM team had a colorful display of photos from previous years' projects and models of their current ones for all to admire. They handed out stickers, pins, and pamphlets to advocate for their community-based program.
"We put a sculpture in the middle of Lake Thoreau every single year," says Andrew Wood, 12th grade. "We go from model to full blown sculpture over the course of a school year on the power of nothing but students."
"All of the stem students, all of the art students, we really need a little bit of everybody!" he says. "…We got all these people doing all these things. It's really a club for everybody."
He says that not only does it look good on college applications, but it's also a confidence booster to be able to "point to a sculpture in the middle of a lake and say 'I built that! That was me!'"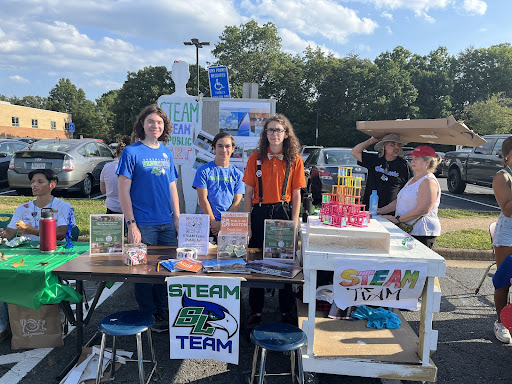 National Math Honors Society
If you enjoy math and want to pursue a career in the STEM field, Math Honors Society is a great way to meet people just like you! Two officers handed out flyers with the application attached to prospective members.
"The main goal of math honors society is really just to foster a love of the mathematics field within our school," says Bryant Kalunga, 12th grade. "That's why we're constantly working to help students within our school."
"It serves to popularize math and show it's not as intimidating as it seems," says Sophia Pahomkina, 12th grade. She explains that since she wants to go into engineering, NMHS "could really bolster [her] skills and set [her] up to be in a good place for college."
Gender Sexuality Alliance
And last on this list (but certainly not least!) GSA's co-presidents handed out pride flags and stickers, dotting the crowd with rainbows of color. Their trifold reflected the nature of their inclusive club as a quick visual crash course on different parts of the LGBTQ+ community.
"It's a safe place for South Lakes' LGBTQIA+ community," says Michelle Pickering, 12th grade, "to feel represented and at home and with people that they can relate to."
"We also educate our members on LGBTQ history," says Oak Kalinichenko, 12th grade. "So we'll have multiple activities, and we'll have time where people can get support. We'll have time where people can socialize with people like them, so everyone's welcome."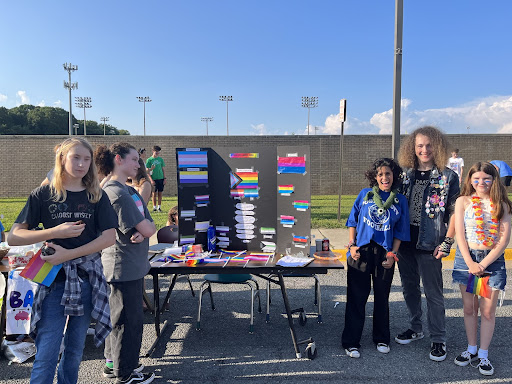 So many clubs, sports, and electives got to showcase the fun they have, emphasizing the robust and vibrant community here at South Lakes! Go Seahawks!