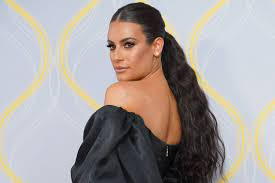 Superstar singer and actress Lea Michelle, native to the Bronx, has been subject to the full spectrum of love and hate over the course of her career. While her role as Rachel Berry in the hit musical comedy, Glee, is her claim to fame, the show also attracted the most negative attention. The issue here is that her character, although blessed with a beautiful voice, is absolutely insufferable. When word rose about Michelle's character being a little too close to her real life personality, the narrative was inescapable. Suddenly, news broke onto the internet that Michelle was incapable of reading lines, and quickly, the jokes became too real.
The first accusation came from Michelle's co-star, Naya Rivera, after she released her memoir in 2016. In the book, she spoke about how Michelle would never do improv or veer off of a script with certain people—as well as dissing her attitude on the set of Glee. Here's where it gets real: When Michelle gave no rebuttal to these statements publicly, viewers assumed that she had nothing to say simply because she "couldn't read the book." This rumor spread quickly, and people had no reason not to believe it. Every time she was seen reading something of any substance, whether it was an envelope announcing the winner of an award or even a children's book, haters would say it was fake. The joke got to the point where people would speculate how Michelle must have had someone read her lines to her, and memorize them audibly.
Concerns also rose around the fact that there aren't any videos of Michelle writing words herself. In every video of a signature, for instance, her name is already written on the paper and she is seen with a pen floating around on top of the writing. In an interview with Andy Cohen, a guest asked Michelle directly how she feels about people on the internet saying she was illiterate. She responded with a prolonged dialogue about how the story began and how "bizarre" it was. However, while she was answering, she was interrupted and asked to read a word off of a note card. Michelle, instead of reading the word or sentence, blurts out horrendous jumbles of words—only adding gasoline to the fire of rumors that she can't read anything at all.
Although there is no concrete evidence of Michelle's literacy, fans of the show, Glee, took it to heart because of the complaints from her costars about her rude attitude. Amber Riley had said "she looks like she would say she doesn't see race," and other actors complained about her insufferable narcissism. Even though these have nothing to do with her ability to read from a script, it makes it easier to want to believe that Michelle is incapable. The general distaste for Michelle's personality turns people towards following rumors about her.
Story continues below advertisement
Now, the thing about internet rumors and memes is that they will haunt you forever. When Michelle landed her new job under the lights at Broadway in the show Funny Girl, the attention on her turned negative quickly. Rumors of her rude attitude spread like wildfire and people couldn't help but cloud over her shining voice while she sang in the show.
Michelle has never spelled out for fans that she can read, but realistically, there's no way she memorized pages upon pages of lines every day in time to film television shows. She continues to poke fun at the rumor through jokes on social media, but the internet is far too deep into this speculation. Unfortunately for Michelle, she is never beating these literacy allegations.