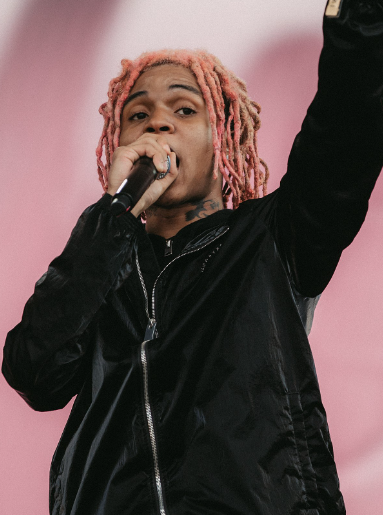 Back in 2020, Atlanta Rapper, SoFaygo, was all the talk in the underground scene. With the release of his newest EP Angelic 7, it was garnering traction from a lot of outlets. This short project was the fourth SoFaygo had released in a busy year despite the quarantine lockdowns in the 2020. The last song on the EP, 'Knock Knock' blew up on TikTok. This explosion made many people in the mainstream witness his potential, including the mastermind behind Lyrical Lemonade, Cole Bennett. Faygo teamed up with Bennett to create the 'Knock Knock' music video. Delineating the world of Faygos' distinguished sounds with the trippy visuals added in the video.
Shortly after, Faygo released his fifth and final EP of 2020, titled After Me. This was featured on the breakout single, 'Off The Map.' Despite not blowing up on any social media; it's ahead of its time with flashy synths, speaker-breaking bass, and catchy vocals. 'Off The Map' was what you'd expect coming from an above-average rage track, which made it so enjoyable with plenty of replayable value. While 'Off The Map' was compared to containing similar elements to other artists such as: Playboi Carti, Lil Uzi Vert, and Travis Scott. Aside from that, songs such as 'Chrome,' 'Hang With The Goats,' and 'Up Off 1942,' attested Faygos' versatility as an artist. As it was displayed on chilled-out trap beats with a melodic flow and angelic voice. Overall, the EP gained good reviews from critics and fans alike, and drew the attention of Houston Native, Travis Scott. In April of 2021, Scott signed Faygo to the Cactus Jack Record Label, along with Don Toliver and Sheck Wes.
Meanwhile in 2021, Faygo teased snippets of his upcoming debut album, Pink Heartz. However, the album never dropped, and the anticipation and eagerness of a new SoFaygo Album died down. That year, he appeared as a feature on Trippie Redd''MP5' off of his album, Trip At Knight. Faygo also appeared on his labelmate, Don Tolivers' Album LIFE OF A DON on the track. 'Smoke.' It took until June 2022 to even get music from him, and it came in the form of the EP B4PINK. B4PINK mostly disappointed, with no innovative sounds or much replay value on the song at all.
On November 11th, 2022, Faygo dropped his long anticipated debut project Pink Heartz; with the lead single being the heavily synthesized "Hell Yeah" chants. 'Hell Yeah' was featured in a Beats© Dre Commercial featuring Lebron James and his son, Bronny. The features on Pink Heartz was a star-studded lineup, featuring the aforementioned artists: Ken Carson, Lil Uzi Vert, Don Toliver, along with the song, 'Took Off' featuring the likes of DJ Khaled, Gunna, and Pharrell Williams producing. The 16-track, 53-minute-album was thought to be a more complete piece of After Me; with both melodic flows and rage beats. On the contrary though, this album failed to chart on Billboard's Top 200, and sold 5,000 copies equivalent units in its first week. It was considered a flop. How did this happen to an artist that was so highly regarded to be the next superstar just two years ago?
Story continues below advertisement
Reason one: Inconsistent releases
With the releases of five EP's in 2020, he had set a standard for his releases being consistent. Therefore, it was disappointing he didn't follow through with his releases other than B4PINK. Meanwhile, his competitor was Yeat on Soundcloud. Since Yeats' 'Get Busy,' 'Money So Big' and 'Sorry 'Bout That' blew up on TikTok. Faygo shortly after released 2 Alive, which also had smash hits on it. He kept the anticipation and hype on with the release of the following projects in 2022 titled Lyfe and Afterlyfe. Eyes were placed upon SoFaygo to release his upcoming album, Lyfestyle, after he was featured on Drake's newest album, For All The Dogs. Since 2021, he hasn't co-signed with Travis, or even received a mention from him. Pink Heartz failed to chart, and his manager claimed Faygo was an independent artist. The album was not even released under a major record label. This proved to be true, since those artists associated with Cactus Jack only proved to be released by the aid of label conglomerates. He wasn't even co-signed with a bigger label conglomerate at all. Despite those accusations, others believed that the Travis Scott cosign was enough to get some notice for a highly anticipated album. Especially because no other competitors in the underground/rage scene were releasing on the same day. It's still unclear whether SoFaygo dropped on deliberately, or if the pause was imposed by the label.
Reason two: No promotion from the label
When an artist signs with a label, they are usually brought out as tour guests and album features. However, Travis Scott's sole assistance to SoFaygo was bringing him out for a tiny, off-tour event back in 2021 before Pink Heartz. SoFaygo did not appear or produce on his most recent album, Utopia. He will not be opening for Scott on the Circus Maximus Tour, since Scott has chosen the rising superstar, Teezo Touchdown as his opener. SoFaygo even released the EP GO+ over the turbulent year of 2023. This EP was favorably appreciated since it included a return to the underground anger sound with melodious voices. While SoFaygo has the ability to become a breakout star in the music industry, it all depends on his marketing and consistency in his songs. Yet, for the time being, it appears like his musical future is at risk due to lost opportunities.