Diwali: The Festival of Lights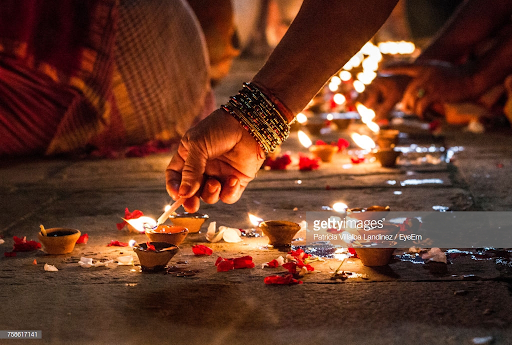 Vanessa Melendez, staff writer
November 14, 2018
The International Club's goal is to introduce students cultures from around the world. The different festivities, clothings, foods, and holidays that each country has to offer. Their first meeting was a success. They introduced us the wonders of Diwali, celebrated in India. A holiday that is enjoyed by many, even those that don't practice Hinduism.
Diwali, also known as the Festival of Lights, is celebrated with lights, food, party, and with friends and family. It is a time where gifts are given and big feast are made with variety of food and sweets. Every building, house, and stores are decorated with lamps called "Diya," which burn all night. The households are also decorated with "Rangoli" – flowers placed in a beautiful pattern along the floor of household entrances. Along with homemade toys being given to the children. And by the end of the feast, the children go out and light some firecrackers. Diwali symbolizes a spiritual "victory of light over darkness, good over evil and knowledge over ignorance."
Overall, the International Club did a good job giving the people a peek at what is Diwali. Along with providing sweets and Henna tattoos so we could enjoy and have a feel of Diwali and have our own little celebration. Those that are interested to learn new cultures or finding out something you never heard of, take a look at the International Club. They introduce new cultures once every month so anticipate what International Club will introduce to their fellow students next.