Movie Review: 'Bumblebee' is the best 'Transformers' movie yet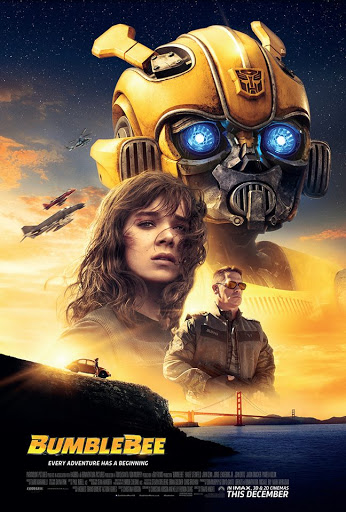 Miranda Sandoval, online editor
January 31, 2019
Understandably, our generation has grown weary after being subjected to mediocre action movies with predictable plots, forgettable "heroes," and numbing loads of violence. However, 'Bumblebee,' the riveting new live-action movie produced by Steven Spielberg and directed by Travis Knight, is a welcome addition to the movie industry, grossing $121.9 million at the U.S. box office. This nostalgic nod to the 'Transformers' era gives off major '80s vibes and has three key things that prior shows in the series did not: substance, heart, and good acting.
Like any film worth its salt, 'Bumblebee' is action-packed from the start – complete with epic fighting scenes, crazy-cool car chases, and awesome explosions. Ultimately, though, the tender, heartfelt scenes are what separate this spinoff from its empty, testosterone-laden predecessors (which were, unfortunately, directed by Michael Bay).
The producers of 'Bumblebee' made the brilliant decision to cast actress and singer Hailee Steinfeld as heroine Charlie Watson. It's about time a lady gets the limelight in the ultra-masculine 'Transformers' series! Steinfeld brought a much-needed feminine energy to the movie and gave an exceptional performance, rivaling her previous acting stints in films like 'The Edge of Seventeen.' Gone are the days of objectified women in 'Transformers' productions; Steinfeld's not one to play the damsel in distress. No siree – this girl's got grit, guts, and a rebellious streak. She also has the uncanny ability to recreate a sort of teenage angst and awkwardness that makes her adorably relatable. Steinfeld breathes life into her role in a way that is raw, real, and positively refreshing.
Charlie Watson is a moody teenager that works a summer job by the beach, endures teasing from the local mean girl, and struggles to get along with her widowed mother and annoying little brother. Charlie's also an eccentric gearhead that spends her spare time in her garage, restlessly attempting to restore the car she was working on with her father before he passed away. As fate would have it, she rescues a tattered, worse-for-wear Volkswagen Beetle from a junkyard one day and claims it as her sweet new ride. To her surprise, the car transforms into a colossal machine – a friendly yellow robot resembling an oversized bumblebee. The plot focuses on the unbreakable bond that forms between Charlie and Bumblebee (or "Bee" for short). As the movie progresses and their friendship develops, she discovers that Bumblebee is really Autobot B-127, a bumbling hunk of metal with a huge heart and the ability to kick some serious robo-butt. He escaped to Earth from the war-torn planet Cybertron, and is hiding from two evil Decepticons (voiced by Angela Bassett and Justin Theroux) and an obsessive Agent Burns (John Cena). Together, Bumblebee and Charlie listen to pop and rock music (Bon Jovi and The Smiths, anyone?), go on joy rides across California, and save the world from destruction.
The film's portrayal of Autobot B-127 made him more human like. Although he was unable to speak (after losing his voice box during a fight), Bumblebee displayed an incredible amount of emotional depth through his actions, gestures, and expressiveness. This set him apart from the Transformers of the earlier movies, which were little more than battling machines devoid of feeling and purpose. As Johnny Oleksinski of the New York Post put it, "Bumblebee is more than the usual collection of idiosyncrasies, a stereotypical voice and some one-liners – he has a soul."
The picture's big-hearted 'bot and feisty heroine will garner the admiration of fans, old and new alike. Its many intimate, emotional moments pack a one-two punch and keep the audience from falling asleep in the theater. 'Bumblebee" is finally a Transformers film worth watching.
Runtime: 1 hr. 54 min
MPAA Rating: PG-13
Star Rating: ★ ★ ★ ★
Rating Guide (taken from http://prometheus-unbound.org/about/reviews-rating-system/)
★ ★ ★ ★ ★ Absolutely loved it! A masterpiece!
★ ★ ★ ★ Really liked it. Any flaws were relatively minor and/or did not detract significantly from the work.
★ ★ ★ Liked it. The work was not without significant flaws but overall enjoyable.
★ ★ Didn't like it. The work had some redeeming qualities but these were overwhelmed by its flaws.
★ Absolutely hated it! Shoot-me-now awful.
Sources
https://en.wikipedia.org/wiki/Bumblebee_(film)
https://www.boxofficemojo.com/movies/?id=transformers6.htm
https://razzies.com/razz-newz.html
https://nypost.com/2018/12/19/bumblebee-is-the-only-decent-transformers-movie/