Frozen 2 soundtrack released: Movie coming to theaters this Friday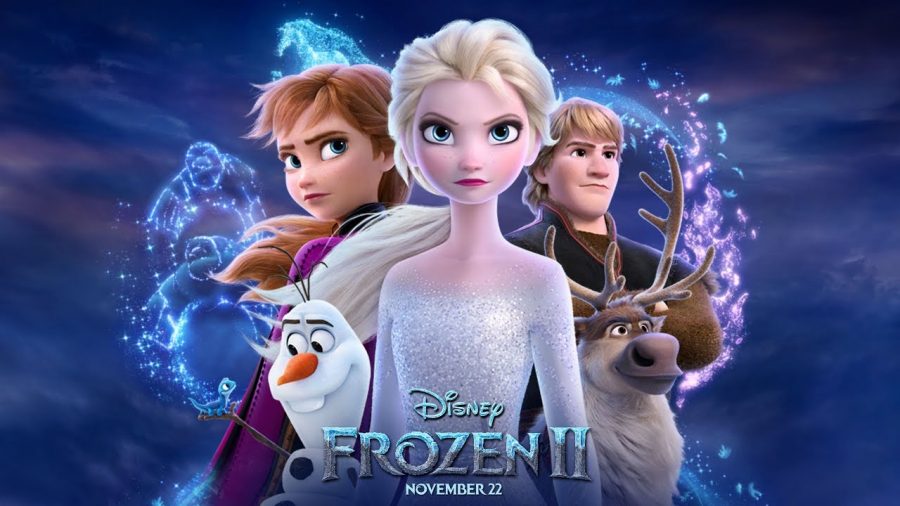 "The snow glows white on the mountain tonight, not a footprint to be seen…" Sound familiar? This coming Friday, theaters will begin showing Disney's most anticipated movie of the year: Frozen 2. Today, the 2013 movie Frozen is still the second highest grossing film of all time, so it is no wonder that fans have been eagerly awaiting the release of this coming sequel.
For anyone who hasn't already seen the blockbuster film, the movie tells the story of two princesses of Arendelle. The older princess, Elsa, has secret ice powers. However, as she becomes queen, she loses control of her ice powers and is portrayed as a monster to the public. As Elsa runs away from the people of Arendelle, her younger sister, princess Anna, goes on a quest to find her. Along the way, Anna meets new friends, and finds romance. The film emphasizes the importance of friendship and love as the characters depend on one another to work through difficult situations. Many beloved actors and actresses return to play their respective roles, including Idina Menzel as Elsa, Kristen Bell as Anna, Jonathan Groff as Kristoff, and Josh Gad as Olaf. These amazing actors and actresses are accompanied by many more stars, and another incredible soundtrack.
The original soundtrack featured many iconic songs, including "Love is an Open Door," "In Summer," "Do You Want to Build a Snowman?". However, Idina Menzel's "Let it Go" definitely topped the charts. The soundtrack for the sequel Frozen 2 was just released, and fans have begun to listen to their heart's content. There are 11 new songs, and many wonder which will be the one topping the charts this time. Well known artists Panic at the Disco! and Kacey Musgraves are featured in the playlist.
To avoid spoilers, the main plot of the film will remain a secret! However, anyone who wants a sneak peak can follow this link to a trailer of the film. https://www.youtube.com/watch?v=Zi4LMpSDccc Due to the overwhelming success of the first Frozen movie, Frozen 2 will most likely sell out tickets in theaters, so don't miss out! If you plan on watching the movie's grand opening, you may want to consider reserving seats in advance. See you in theaters this Friday for an unforgettable Frozen adventure!
About the Contributor
Olivia Cochis, Features Editor
Olivia Cochis is currently a senior at South Lakes High School. She is a features editor for the Sentinel. She has been on the staff all four years, and...