Review of Netflix's teenage dystopia: "The Society"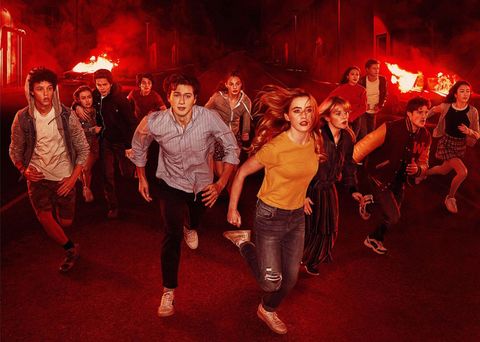 WARNING: SPOILERS AND TRIGGERING TOPICS AHEAD
Netflix's "The Society" has become a huge hit since it's release in May. The show not only appeals to teenagers with intriguing and shocking plots, but portrays problems that teenagers experience in high school, love, with themselves, their family and the real world.
The Society is about 16-18 year old Massachusetts teenagers that are excited to go on a school field trip, but end up in another universe in which only they exist, and there are no adults, animals, internet, and most importantly, rules.
As the teens try and settle into this universe that's an exact replica of their hometown, many problems arise. Questioned leadership, familial betrayal, love triangles, violence, chaos, abuse, and the struggle to gain power and overthrow the current leader.
An extremely important thing that the show highlights is power in relation to government, and rules. In the show, Cassandra Pressman (Rachel Keller) is the first leader of "New Ham." However, in the first few episodes of the series, Cassandra is murdered. Shortly after her death, her sister Allie (Kathryn Newton) takes over "New Ham" and has assistants, friends, and even a protective team known as "The Guard" there by her side to make sure her democratic rule runs seamlessly.
Even though Allie is given help for her rule, her cousin Campbell (Toby Wallace) has a sadistic personality and eventually convinces 'The Guard' that Allie isn't fit to rule "New Ham" anymore and has her arrested while his two pawns take over as New Ham's leaders.
Netflix's "The Society" tackles stereotypical topics such as domestic abuse, teenage murder, repressed sexuality and high school stereotypes regarding sexuality, unplanned pregnancies, mentions of abortion and suicide, underage drinking/drug use, gun use, religion, addiction, abuse and mental illness.
"The Society" is a suspenseful yet exhilarating show that challenges the status quo while giving the main characters diverse background stories and plot lines. Even though the show deals with many dark topics, the major unknown universe plot and character drama keeps the audience wanting more in the upcoming season (set to be released in 2020).