South Lakes student starts a business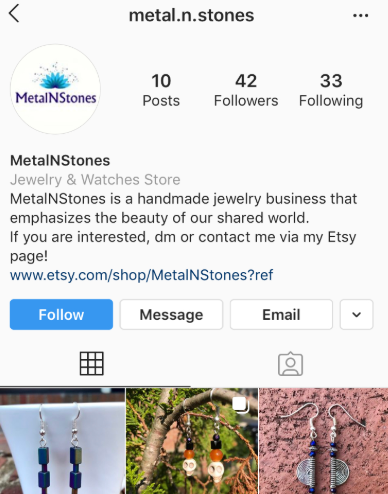 Starting a business can be difficult for most teenagers. It's intimidating! With undeveloped management skills and schoolwork to balance with their new vocation, students can feel like starting a business is overwhelming and near impossible. However, Trisha Rahman, a junior at South Lakes High School, took her passion for jewelry making and fleshed it out into her steadily growing online business: "MetalNStones."
"It started out as a hobby when I was in middle school," Trisha said. "I would make [pieces of jewelry] for fun and sometimes use them as gifts."
That was only the beginning. It soon occurred to her that she could sell her products, mainly earrings, for money and a more rewarding experience.
"I had already been using Etsy to buy things," Trisha explained when describing the beginnings of her business.
However, since she was only in middle school and didn't know much about marketing and promotion, her business didn't pick up until more recently.
For Trisha, planning had never been something stressful—in fact, it was the opposite. She didn't allow her business to feel overwhelming, and she made sure to ask for help when needed. Balancing her business hadn't been too difficult either. It was all a matter of time management. She devoted most of her time to school work, but left time on the weekends to make new pieces and update her social media.
Trisha struck me as a responsible and well-rounded person. She wasn't too dependent on her parents, and she treated the creation of her business as something to experience and learn from. I was surprised to learn that she handles all of the major aspects to her business, rather than just creating the earrings. She plans, prices, promotes herself, and manages it all in addition to schoolwork. It's not all smooth sailing, though.
"I often have trouble with marketing," she explained.
It's hard to put yourself out there, and the process of pricing can be difficult. It is not always about how much you think it should be, but also how much it might be worth to someone else. The outcome will always turn some customers away—that's just reality.
"I have to make sure I have enough during holidays, because that's when most people seem to buy them," Trisha shared.
Making the earrings has always been the more time consuming part, and having to produce at a faster rate can become stressful. Businesses like hers tend to have deadlines, just as school does.
Trisha thoroughly enjoys her work, and plans on continuing and possibly expanding her business in the future. She finds it to be very fulfilling, especially when she makes sales. "Beautiful and neat work," someone said about the earrings they'd received from Trisha.
When it comes to balancing school work and staying active with her business, Trisha does an amazing job. Her achievements are an inspiration to other students to take their hobbies and transform them into something even more meaningful.
Visit Trisha's shop on Etsy!
https://www.etsy.com/shop/MetalNStones?ref=shop_sugg
For more information, follow MetalNStone's instagram @metal.n.stones!