Korean Dramas To Watch On Halloween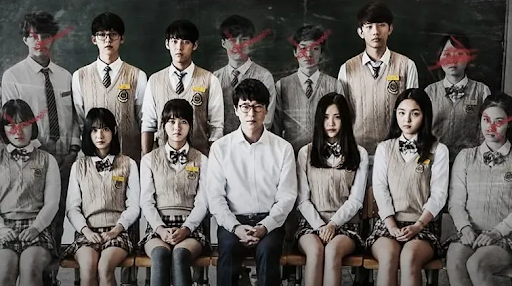 With Squid Game trending and Halloween coming up, why not start a new Korean drama to keep you entertained? Although there are many Halloween classics, these dramas are no different and will keep you clinging onto the edge of your seats!
Sweet Home
There are many Korean dramas that will keep you thrilled but Sweet Home does much more than that. Cha Hyun Soo moves into a new apartment after losing his family due to an unexpected accident and is met with an odd security guard who he later catches staring into the peephole of his door. After staying in his room all day, he goes out to check his food that was supposed to be delivered, but is met with it scattered across the floor with blood. Other tenants who are ready to leave for work realize that they are trapped inside the building with monsters prowling outside. In order for them not to turn, they must cling onto the last bit of humanity left inside of them in order to survive.
A Korean Odyssey (Hwayugi)
Hwayugi is all about romance with a sprinkle of fantasy. Jeon Seon-Mi lives in a world filled with evil spirits and was born to see each and every one of them. As a child, she frees an immortal monkey spirit, Son Oh-Gong, from a prison in the mountains in return for protection from the evil spirits. Once they both leave, Son Oh-Gong erases the memory of his name from Seon-Mi's mind so that she can no longer call him to save her. Years later when Seon-Mi grows up, she encounters him again and he's forced to continue his role as her protector. In order to have him stay with her, she forces him to wear the Geumganggo which forces him to fall in love and do anything Seon-Mi asks for.
Nightmare Teacher
After a homeroom teacher is hospitalized in Yosan High School, a new suspicious substitute teacher comes in followed by many strange events happening in the class. Han Bong gu, the substitute teacher, calls students down to the counseling rooms and offers them a blood contract which allows them to have their deepest desires. Once this is signed, they are given a magical object which will help them fulfill these desires but once they realize the price, they disappear and are forgotten. The class president, Kang Ye-rim, and her friend Seo Sang-woo both notice the disappearances and come to a realization that it may have something to do with the teacher, leading them to dig into what's actually happening.
Bring It On, Ghost
Last but not the least, Bring It On, Ghost. This Korean drama is filled with horror along with many comical moments. Park Bong-pal uses his power of seeing ghosts for exorcism in exchange for money. For one of his jobs, he's called to a High School where he meets Kim Hyun-ji, a wandering ghost, and battles it out with her, only to find out that she is not the ghost that he was called to the school for. Bong-pal triggers memories from when Hyun-ji was alive and she follows him, thinking that he may be the key to her memories. Bong-pal allows her to follow him if she promises to help him with his part-time job. With this, both Bong-pal and Hyun-ji help each other and find more information about their connection with one of the professors in Bong-pal's university.