Lake Anne Forces RCC To Move Summer Concert Series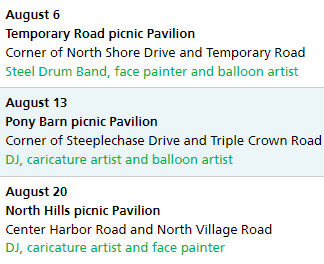 Free small concerts take place at lake anne plaza during the summer each year, but it turns out that won't be the case this year.
The Reston Community Center is moving the Annual Summer Concerts Series to Reston Plaza after not being able to reach an agreement with the condo association that manages Lake Anne Plaza. The events that usually take place at the Summer Concert include the Pride Festival, the Roots Festival and the Labor Day Jazz and Blues Festival.
The first event is Thursdays With Arts At Mason is located on Reston Town Square Park on Thursdays through 5:00 p.m. – 6:00 p.m. From Broadway to brass, vocalists to jazz, faculty and student performers at George Mason University's College of Visual and Performing Arts offer concerts in Reston Town Square Park., free for all ages
The second event is Take A Break, starting on June 2nd with a performance by bluegrass artist Shannon Bielski and Moonlight Drive. The weekly musical performances will continue from 7:00-8:30 pm on Thursday nights into September located on the Metro Plaza adjacent to the Wiehle-Reston Metro Station. The parking lots for these events will be able to have their parking validated by ParkX 6:30-9:30 pm.
The third event is Summerbration Fab Fridays, located at the Reston Station. These concerts will take place on Fridays, from 7:00-8:30pm. It is free and open for all ages.free parking will be available 6:30-9:30 pm.
The fourth event is the Family Fun Entertainment Series, which will take place at Reston Town Square Park on Saturdays from 10:00-10:45am. It's open for all ages and free. Parkings will be free on weekends at the Reston Town Center.
The fifth event will be Family Picnic Day, will be on Saturdays 4:00-6:00pm different locations will be available for the picnics to take place, bring a picnic, your family and friends to play family-friendly lawn games, blow some bubbles and enjoy listening to music.
The last event is Sunday Art In The Park, located at Reston Town Square Park on Sundays 7:00-8:00pm. Different plays from students, Broadway performances, and garage parking will also be free at Reston Town Center.
Accordingly, mask-wearing, social distancing and health self-checks of people attending these RCC performances may be required. So, make sure to come prepared!