BTS at the White House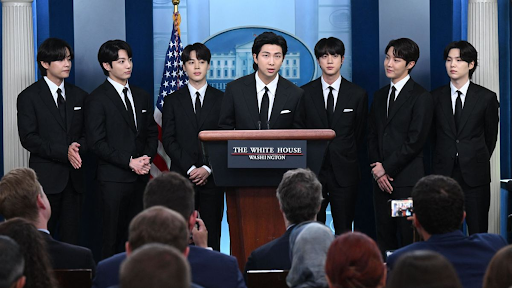 South Korean group BTS visited the White House to discuss the spike in anti-Asian hate crimes on May 31st. They were there to end AANHPI (Asian American Native Hawaiiain Pacific Islander) month with a positive message and to continue to raise awareness about the discrimination and violence Asians have been subjected to. There are over 20 million Asian/Pacific Islanders living in the United States. Anti-Asian hate crimes have spiked by 339% nationwide in the last year according to the Center of the Study of Hate and Extremism.
Each of the members made a statement during the press briefing in both Korean and English. They shared their thoughts on inclusion and diversity. "Everyone has their own history. We hope today is one step forward to respecting and understanding each and every one as a valuable person." said V. 310,000 viewers tuned in on the White House's official live stream of the press briefing.
Following the press briefing the members met with President Biden in the Oval Office to continue discussing how to address the hate AANHPI are facing. They had a closed press thirty five minute discussion and thanked Biden for signing the Covid-19 Hate Crimes Act into law. This law facilitates the expedited review of hate crimes and reports of hate crimes.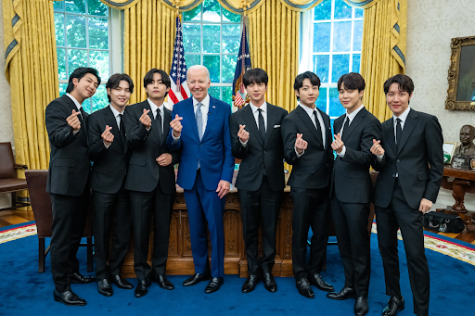 This is not the band's first time speaking out against Asian hate. Following the spa shooting where eight women, six of Asian descent were killed in a shooting spree in Atlanta, they released a statement and described their experiences as "inconsequential" compared to the event that unfolded, but "chip away" at their self esteem. "We recall moments when we faced discrimination as Asians," the statement said. "We have endured expletives without reason and were mocked for the way we look. We were even asked why Asians spoke in English." The group's work has constantly been looked down on and made fun of, but they continue to use their platform for good.
"We are here today thanks to our ARMY — our fans worldwide, who have different nationalities and cultures and use different languages. We are truly and always grateful." said J-Hope. The group left a positive impact within the White House and their visit will not be forgotten.