Elon Musk purchases Twitter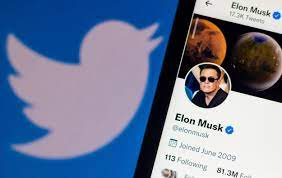 Tesla CEO and self proclaimed "Technoking of Tesla" Elon Musk bought Twitter on October 28, 2022. After first proposing to buy Twitter on April 14, 2022, Musk tried to back out of the deal in July, stating that he was worried about the number of fake accounts. Twitter sued, and Musk reopened his offer in early October, going through with the deal on October 28.
Musk, worth almost 200 billion dollars, spent $44 billion on the social media platform, though he still maintains his position as the world's richest man.
According to ABC news, after becoming CEO of Twitter, Musk started his period of leadership by firing about half of Twitter's employees. This also included Parag Agarwal, who had the role of CEO before Musk took ownership. Musk also sent out an email to his remaining employees, saying they need to commit to "working long hours at high intensity," and stating that "only exceptional performance will constitute a passing grade." He described the new work environment of Twitter as "extremely hardcore," and said that employees would either have to agree to these new terms the next day by 5:00 PM ET, or lose their jobs.
Musk began allowing users to purchase the verification check mark that was previously used to verify the identities of prominent figures. Some users used this verification to impersonate prominent figures.
After seeing a decline in Apple's advertising on Twitter, Musk got in an argument with the company, tweeting that "Apple has mostly stopped advertising on Twitter. Do they hate free speech in America?" He also claimed that Apple "threatened to withhold Twitter from its App Store, but won't tell us why." He later took it back, stating that he had a "good conversation" with Tim Cook, who assured him that Apple was not considering taking Twitter off of its app store.
He also tweeted a poll asking users if they thought the account of Donald Trump, the former president of the US, should be brought back to Twitter. After 51.8% of users voted to reinstate the former president, Musk brought back Trump's account, though, according to the Washington Post, Trump said he would be focusing on his social media platform Truth Social instead.
Musk and the European Union are also in conflict, with the EU even threatening to cut Twitter off completely in Europe, if it does not start following its laws, specifically regarding regulations on hate speech and disinformation.