Why You Should Come to Taco Zocalo
Taco Zocalo puts a spin on traditional Mexican cuisine, attracting many students at South Lakes. As it is located in Faraday Professional Center, it stays hidden. It definitely needs more attention from our school community. Their food is perfect for students and their families. It's critical that we have a Mexican restaurant in Reston, because we are such a diverse community. Taco Zocalo serves tacos, burritos, bowls, salads, and more. As soon as you walk in the restaurant, you are greeted by the staff and surrounded by a welcoming atmosphere. They have open seating inside and outside, and their tables are decorated with their homemade hot sauce, beautiful flowers, and paintings.
The COVID-19 pandemic shifted their food orders to mostly online, pickup, or delivery. Luckily their type of food is easily transportable and you were still able to get the full experience. They were able to open a second shop in May 2020, located in Ashburn. Opening a new shop during the pandemic was a risk, but luckily it worked out perfectly. They are now open for dine-in again.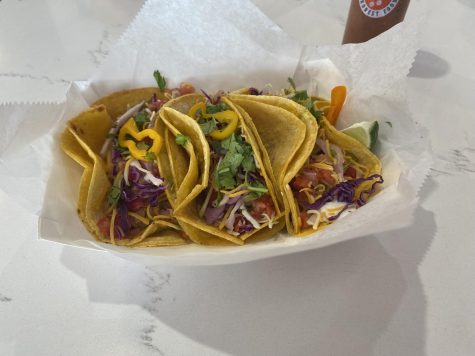 On Friday, September 17th, I had the opportunity to give it a try for the first time. I was welcomed by the helpful and welcoming staff as I took a look at their menu. I loved that they had many different choices and that they had a variety of meat and toppings. When you choose to order a taco or burrito, you are able to add whatever choice of meat you would like. I decided to order the meal that comes with three tacos. You can customize your choice of protein, as the choices include chicken, steak, fish, veggie, and more. I chose to go with the staple meal there, the chicken tacos. They were amazing and not like anything I had ever had before.
I decided to chat with Hanif Ahadi, a senior at South Lakes, and the son of one of the owners at Taco Zocalo. He explained that back in 2012, his dad and his brother started Taco Zocalo as a food truck. Although their focus of food is tacos, burritos, and bowls, they are not hellbent on being an excessively authentic Mexican restaurant. They choose to make their food their own. Hanif explained that "cooking is not an equation like baking. It's really up to you to decide what you want to do with the food." He emphasizes that how someone has been raised or what they've learned in the past influences an individual greatly. Hanif and his family believe strongly that developing your personal style is what makes your cooking special. He always knew his dad was a good cook, as he states that his personal style is what makes his cooking unique.
I was extremely curious to educate myself more on the menu and learn what Hanif's favorite dish is there. Hanif described to me their special on Tuesdays. They serve birria tacos, which you may have heard about on Tik Tok. On Tik Tok, they are seen being dipped in soup or stew. They are traditionally made of goat meat, but they can frequently be served with lamb, sheep, veal, beef, or pork. Overall, Hanif's personal favorite is the barbeque brisket, which you can get in burritos, tacos, or quesadillas. Although he may have his favorites, he states that "everything on the menu is delicious and customers eat there religiously".
After hearing that Taco Zocalo has a lot of regulars, I wanted to interview them to get their opinions on the food and the atmosphere. I spoke with Eddie Schoenborn, another senior at South Lakes, and a frequent customer of Taco Zocalo. He has eaten there multiple times with his family and describes it as a family friendly restaurant. Eddie loves that every time he eats there, the owner brings out his food on a big tray. He recognizes that they have many regular customers and that they are like a little community because all of the workers know most of the guests. Eddie's typical order is a chicken burrito with beans and rice. He emphasizes that even though it is a similar lineup to what'd you'd get at Chipotle, "it has better ingredients, seasoning, and flavors". He loves their special Taco Zocalo hot sauce and always tops his burrito with avocado and lime. He states that "he would recommend Taco Zocalo to anyone who enjoys delicious food."