What's Up with the Claw Clip?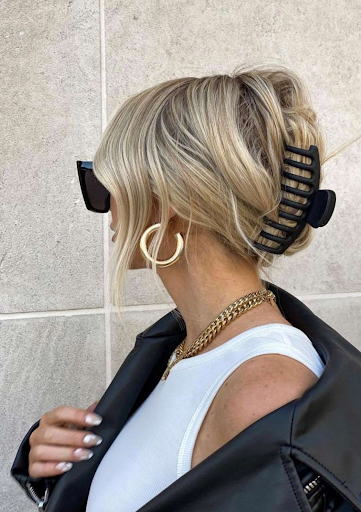 Over the past few years, numerous old fashion trends have made their return to popularity. Some of these include low-rise jeans, flared jeans, sweater vests, scrunchies, and the latest being claw clips. The claw clip is a super easy way to tie your hair up while still looking cute. We can thank influencers and celebrities for bringing back this essential accessory.
This year at school I have seen many people in the halls with claw clips in their hair rather than a simple ponytail or bun. "My go-to hairstyle has always been a messy bun, but that tends to ruin my hair for the rest of the day," says senior Bella Piazza. She further explains, "I like how with the claw clip I can keep it up and out of my face but (my hair)still looks cute and doesn't mess it up".
On top of claw clips looking cute, they have various other benefits as well. "Unlike hair ties, claw clips are gentle on hair and help prevent the typical breakage that comes with putting hair up," says Forbes.
While the claw clip is mainly seen as a handy accessory, some feel differently. "It's inconvenient for people with curly hair," says senior, Jinan Asad. "It doesn't hold properly, it just falls out," senior Sara Maslouhi reiterates.
If you are looking to purchase a claw clip, the one I highly recommend is the Grande Claw Clip. It keeps all my hair up and, although it is plastic, it is good quality and has lasted a long time for me. Happy shopping!