How to celebrate St. Patrick's Day during a pandemic
While St. Patrick's Day has been simply deemed "that one day where we all either wear green or get pinched," I think it's important that those of us who are still stuck at home have a way to celebrate this upcoming March 17!
St. Patrick's Day annually celebrates the anniversary of the death of patron saint Patrick, who was credited with bringing Christianity to Ireland. It gradually evolved into a holiday acknowledging Irish culture with music, dancing, (fromerly) parades, and of course, green.
Games
Besides looking into the true meaning behind St. Patrick's Day before it was lost to the American celebrations we take part in now, there are a few games themed for St. Patrick's Day that anybody can take part in. With few personal supplies, families can play games like "Roll a Rainbow" where players use a die and try to be first to make a rainbow by tolling associated with a color of the rainbow. Another is "Potato Bowl' which is basically bowling but with a potato instead of a ball and water bottles instead of actual pins.
Food
Since some of us will be spending a little extra time at home, there may be space in our schedule for some traditional irish food. It might be a little difficult, but Irish soda bread may be a perfect contribution to anyone's St. Patrick's Day that goes perfectly with Irish stew, another traditional recipe that's always made during this holiday's festivities. The recipes to these can be easily found online, but I have included them below for quick access.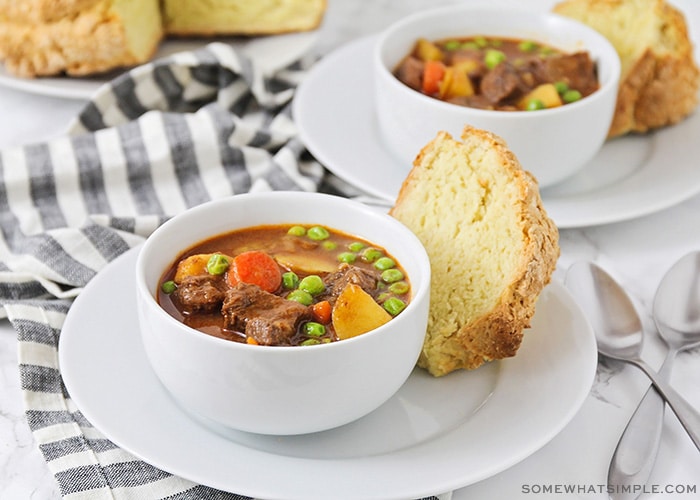 Music
If interested, everyone can tune into Dropkick Murphys' concert live stream. They've decided to transmit their 24th anniversary St. Patrick's Day weekend concert over the internet for anyone to see. They're streaming either on YouTube, Facebook Live, or on Instagram. The performance will be on March 17th at 7PM East Coast Time and 4PM West Coast Time.
We are happy to announce that our friends at @DeathWishCoffee are joining our presenting sponsor @pega to bring you the March 17 ST. PATRICK'S DAY… STILL LOCKED DOWN live stream. pic.twitter.com/WVJ1gb6QZH

— Dropkick Murphys (@DropkickMurphys) March 9, 2021