Diwali is Here!
The Indian festival of lights, Diwali, is just around the corner. Diwali, also known as Deepawali, celebrates new beginnings and the victory of good over evil. Because of the many cultures that populate India, different families recognize different stories for this auspicious holiday.
For Hindus, Diwali marks the return of Lord Rama from his 14-year exile. When Lord Rama returned to his village of Ayodhya, the people of his village lit up the kingdom with candles to welcome him back home. Hence, those who celebrate Diwali decorate their houses brightly with small clay lamps known as "diyas".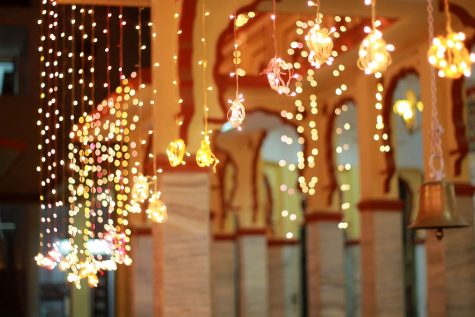 Around the date of the celebration, houses are decked out in Christmas lights, flowers, and Rangoli, an artwork made with colored powder and flowers. In preparation for the celebration, families clean out their homes to make way for prosperity in the new year.
One of the most delicious parts of Diwali is definitely the assortment of sweets that are found in stores and made in homes. These sweets and homemade goods are exchanged between neighbors and families on Diwali. "My favorite sweet is either gulab jamun or kaju katli," says Annika Bhatia, a sophomore at South Lakes. Kaju Katli, a sweet made out of almond flour, might be one of the most savored Indian sweets around Diwali time. Gulab Jamun, is a North Indian sweet that is made up of round little balls which are then dunked in sugar syrup.
Diwali is a jubilant time of the year for Indians around the world. "It's always an enjoyable time and the celebration has a really happy vibe," adds Annika.