Stranger Things Season 4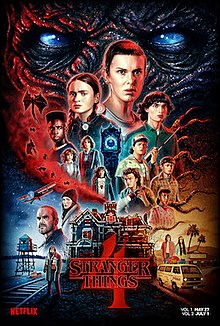 Smash hit television series Stranger Things has taken the world by storm since its debut in 2016, and season four's 2022 release has had the biggest audience yet! The sci-fi horror series captures audiences all around the world and transports them back in time to the 1980s. In this season, the friend group loved by many has to face a bigger villain than ever before in order to save their hometown of Hawkwins, Indiana.
Established actors like Winona Ryder and David Harbour accompany Millie Bobby Brown, Finn Wolfhard, and Sadie Sink, whose careers took off after the release of Stranger Things. While the earlier characters are developing, new characters have won over audiences' hearts. Chrissy Cunnigham and Eddie Munsen, who attended Hawkins High with the main characters we already know and love, set into motion a spiral of terrifying events. Eddie Munsen particularly stood out, with fans writing songs and posting pictures of their costumes where they were dressed as the beloved new personality.
The show is certainly becoming more adult as the audience grows, and the Duffer brothers, the writers of the show, do a great job with making the series mature without taking the familiar charm away. The Duffer brothers have certainly mastered the art of catering to their audience, as the 14 year olds watching when the show first came out in 2016 are now 20.
It is safe to say that the anticipation for this season was high. Season 3 was released three years ago in 2019 and completely took over the summer—kids stayed up all night on July 4th to binge watch the new season, and nobody was left disappointed.
One of the biggest plot points with this season is that El, formerly known as 011, has lost the superpowers that she needs to protect her town. Dangerous monsters from the Upside Down, a haunted replica of the world we live in, taunt her and her friends through chilling visions. Another subject that kept fans holding on was Hopper, the fan-favorite father to El, and his strange disappearance in the finale of season 3. For years, fans clung to theories that proved that he would be alive and back for more episodes, and they were pleasantly surprised to see his face in the new trailer.
One of the factors that gives the show so much charm is the genius of the young main characters. When the first season came out it was compared to The Goonies and ET, which also feature alluring pre-teens who keep the audience entertained with their foul language and pure genius. The characters just had a way of feeling real and relatable.
The first four seasons have kept us hooked for years, but rumors that the fifth season will be the final one still disappoint the masses. The series has been intense from beginning to end, and fans can't wait to see more in the coming years.