QRU? Latin teacher Alexis Heflin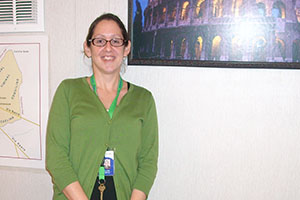 Starting this school year, Latin teacher Alexis Heflin joined the South Lakes faculty.
Where were you from?
I am originally from Louisiana. I moved to Virginia about a year ago because of my husband's job. We came here from Baton Rouge, Louisiana.
How long have you been teaching?
I have been teaching for twelve years.  I taught in Louisiana for eleven years and substituted and taught here for about a year.
Have you always wanted to be a teacher?
Pretty much since I was in college. I like Latin a lot. It was a fun way to stick with it.
Have you taught any other subject besides Latin?
I taught French for one year.
What is it about Latin that interests you so much?
I like the ancient languages. I liked the culture and the way the Romans lived. I also like how the grammar and words work, and how Latin found its way into English. It's really interesting.
What school did you teach at before you came to South Lakes?
Last year I had a long term job in Alexandria as a substitute in St. Stephen, St. Agnes and I taught all over Fairfax County, but I haven't taught at South Lakes until this year. I have been in all sorts of positions from elementary school to high school. Since it was my first time in Fairfax County I wanted to get a taste of the schools. I also teach at Woodson High School every other day.
How do you like SLHS so far?
I like it. I like the students. They seem really nice. The students that I have, have a lot of energy. That's good, they're all good! The other World Languages teachers here have also been really friendly and helpful, and it's made starting at a new school much easier for me.
Are there any interesting facts about yourself that you would like to share with us?
I love winter sports. I attended college in Vermont where I skated and skied.