QRU? Senior Grace Gillen
Advertisement
Hang on for a minute...we're trying to find some more stories you might like.
Senior Grace Gillen, along with her family, traveled to Paris, France this past summer.
What were some of the things you did in France?
We stayed in an apartment, which was away from the tourists, so that was nice. We also went on a bike tour of the whole city and saw some of the major sites of Paris.
What did you see on your tour?
We saw the Eiffel tower, we got to eat at a café, and we rode through the busy streets, and tried to not get hit by all the cars.
Since you take French, were you able to read signs and menus and speak to the people?
I was! It really helped a lot. I got to practice speaking and I got to order food for myself and my sister in French
Besides your bike tour, how did you get around the city?
We mainly took the metro, so we had to buy the tickets and always figure out what stop we had to get off at. Or on somedays we got picked up by a tour guide, so we rode around in the small van
Overall, did you enjoy your experience?
Yes, I enjoyed it very much. It was my first time in Europe, so there was a major culture shock. The food and the city was great and I really enjoyed everything very much.

About the Writer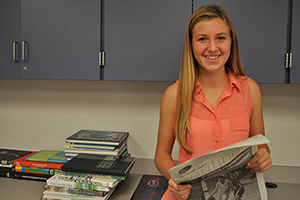 Sally Karras, online writer
Sally Karras, a freshman at South Lakes, is in her first year on the journalism staff. She really enjoys creative writing and has enjoyed it all her life....