The Legacy of Taiwan's Rose Boy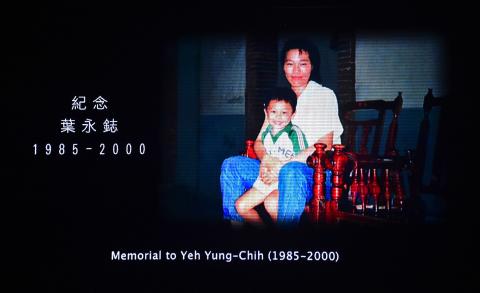 On the morning of April 15, 2000, Yeh Yung-chih asked his teacher to go to the bathroom before the class ended. A few minutes later, his lifeless body was found on the bathroom floor in a pool of blood. He was only 15.
Yeh was born in 1985, he was a student at Gaoshu Junior High school in Taiwan. He was constantly bullied due to his alleged effeminate behaviour. His mother, Chen Chun-ju, said "…he told me that some bullies would seize him and pull his pants off in the school toilet." She described Yeh as a nice, tender, and considerate boy who liked to cook, "He would say, 'Mom, how could you work so late? Go ahead and take a shower, we can have dinner after I stir-fry the vegetables.' He knew I was too tired, so he massaged my shoulders every night. People who worked with me told me, 'Your son is way better than our three children together.'"
Chen repeatedly complained about the bullying her son was receiving, but school officials did nothing. As a result, Yeh would avoid the bathroom during recess and would use the restroom five minutes ahead of time.
The Institute of Forensic Medicine under the ministry of Justice concluded that Yeh died of severe brain injuries due to head trauma after suffering a heart attack and collapsing. However, National Taiwan University's College of Medicine disagreed, arguing that it was unlikely that a young and healthy boy would suddenly die of a heart attack since he did not have any medical history of heart problems.
Soon after the incident, the Ministry of Education formed an investigation team composed of members of the Gender Equality Education Committee; Ji Hui-jung, Wang Li-jung, Su Chien-ling, Bi Heng-ta, and others. After recording the incident and follow-up actions, they called on the Ministry of Education to pay attention to gender issues on campus in the report.
In 2006, the Taiwan High Court sentenced the school's principal and two officials to five months, four months, and three months, respectively, in prison for "neglecting the degree of care required by their occupation."
Views of Yeh Yung-chih's death vary based on the testimonies of various parties and unconfirmed speculation. Some people believe that the incident was caused by the school's failure to respect Yeh's gender nonconformity and teach progressive values.
Yeh's death has remained an unsolved mystery, because there was no concrete evidence to show that his death was the result of bullying. Although nobody was convicted of murder, the long term bullying that he had endured for almost three years almost certainly contributed to the tragedy. What happened to Yeh may never be known.
Social Impact of Yeh Yung-chih
Taiwanese singer Jolin Tsai played a five minute documentary featuring Yeh's mother called Gone but not Forgotten during her 2015 Play concert. The impact of Yeh's life and death has had years to permeate through Tsai's artistry, from We're All Different Yet the Same to The Third person and I. Jolin also released the song Womxnly on December 16, 2018 where she talks about the legacy of Yeh by referring to rose's throughout the song. The song is very powerful and is Jolin Tsai's message to the world that we as a society need to be more accepting. It is telling that Womxnly is dear to Jolin because it's the only track on Ugly Beauty where Jolin is credited as lead writer. The song is very calming, and feels like one big hug.
"Which roses don't have thorns?
The best revenge is to stay beautiful.
The most beautiful bloom is when you start fighting back!
Don't let somebody else change yourself
You are him or her, it's fine
There will be someone who loves you wholeheartedly"
The chorus of the song begins by saying that the most beautiful roses have the sharpest thorns. That is to say, even something as beautiful as a rose still has its flaws. This calls to question: why is something so beautiful being attacked and bashed on? In recent society boys picking on other boys that looked too girly, straightaway referred to them as "gay." Jolin Tsai responds to this by saying that the best revenge to the haters of effeminacy is to 'stay beautiful, and to truly bloom in beauty, you must fight back!' She continues to support that no one has the power to change you. Only you have the power to define your gender because, in the end, there will always be someone who will love you wholeheartedly.
Yeh would be 36 if he were still alive, maybe would have become the chef he always wanted to be. Although he may not be here today he will not be forgotten. He's opened a new path for people to be themselves, and be protected. His mother has become an activist for LGBTQ+ youth in Taiwan, and encourages them to be themselves. Yeh's story has opened minds and hearts, and he will continue to be missed.
Timeline of the Events that Followed Yeh Yung-Chih's Death:
In October 2000, the Ministry of Education launched a campaign called the "New Campus Campaign: Anti-Gender Violence", which emphasized that in addition to respecting gender conforming men and women, people of different sexual orientations and gender identities should also be respected, and stereotyping should be eliminated.
On December 16, 2000, Taiwan's Ministry of Education announced that the "Gender Equality Education Committee" was renamed to the "Gender Equality Education Committee", and the education policy was extended to include a more inclusive policy.
In 2001, the theme of the Ministry of Education's promotion of gender education was set as "multiple genders" and "campus safety".
In 2004, the "Gender Equity Education Act" was created in order to give more attention to educational content about sexual orientation, gender characteristics, and gender identity.
In 2006, the Taiwan Gender Equality Education Association published Give Rose Boy a Hug to record the Yeh Yung-chih incident and explore its implications.
On May 17, 2019, the Legislative Yuan approved a bill, submitted by the Executive Yuan, recognizing marriage for same-sex couples. The bill was signed into law by President Tsai Ing-wen on May 22 and went into effect on May 24. Taiwan became the first country in Asia to recognize same-sex marriage.
On December 26, 2018, Tsai included the song "Womxnly" on her 14th studio album Ugly Beauty in memory of Yeh Yung-chih. The song won the Song of the Year award at the 30th Golden Melody Awards in the following year.