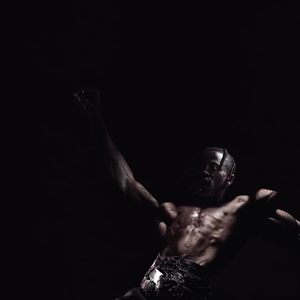 "Album of the year."
This phrase is thrown around a lot, with a lot of differing opinions on who deserves the award. However, I believe the album I am reviewing today deserves the title. UTOPIA by Travis Scott was released on July 28th, 2023 after a 5 year wait from his last album, ASTROWORLD. The project is partially inspired by Kanye Wests' 2013 album Yeezus, an album where Travis Scott has production credits. UTOPIA has very many high points and some bad lows, but serves as an example of Scott's artistry and talent. With that being said, the worst song on this album is…
Story continues below advertisement
K-POP (feat. Bad Bunny & The Weeknd)
This song has a weak and mumbly verse by Scott, then The Weeknd makes the song worse. The only partially redeeming part is Bad Bunny's verse, which is still pretty mediocre. All around, it's a painful listen.
PARASAIL (feat. Yung Lean & Dave Chappelle)
Very forgettable and just a bad song. Yung Lean and Scott drown and mumble in autotune with poor mixing for 2 and a half minutes while Dave Chappelle gives a short inspirational speech at the beginning and end.
MODERN JAM (feat. Teezo Touchdown)
A weak Scott verse and… interesting… Teezo Touchdown verse leads to this track being ranked at 17. This song brings heavy comparison to "I Am A God" off of Yeezus. Teezos' entrance is this high pitched, wailing type of noise, but finishes well to out-do Scott.
DELRESTO (feat. Beyonce)
Scott has this sleepy, mumble filled verse while Beyonce adds this futuristic vibe with great singing over a laid back instrumental. Good song, but no real substance.
LOOOVE (feat. Kid Cudi)
This song was recorded in 2014 as a Rodeo throw away, but it is still relevant and an amazing performance by Scott on this track. Kid Cudi comes in late with this type of radio quality over a really distorted instrumental, and it isn't too fun to listen to this. However, it's still a good song.
TOPIA TWINS (feat. Rob49 & 21 Savage)
While this is a good track on the album, it doesn't really fit the "experimental" theme of the album, making it stick out like a swollen thumb. While Rob49 is aggressive, the verse is just… bad. The worst feature on the album. 21 Savage delivers a good verse and Scott has a catchy chorus at the beginning as well as a rapid-fire verse at the end.
CIRCUS MAXIMUS (feat. Swae Lee & The Weeknd)
This song has an intro from Swae Lee, then goes into a Black Skinhead inspired instrumental, again off of Yeezus. Scott's performance is fine, The Weeknd appears at the sort of "interlude" and the end of the song, and was ok. The only thing I wished for on this track was more of a Swae Lee verse, but it was good without him anyway.
LOST FOREVER (feat. Westside Gunn)
While Scott is lackluster in this song, Westside Gunn has arguably the best verse on the entire project. Westside Gunn brings an energetic, passionate, and well paced verse over a dark instrumental. Scott at the beginning and the end of the track isn't really memorable, and I come back to listen to the Westside Gunn verse more than the full song.
GOD'S COUNTRY
A throwaway off of Kanye Wests' 2021 record Donda, this song was given to Scott who replaced Kanye on the chorus and put it on UTOPIA. The "la la la"s on the instrumental and the mixing over the ad libs gave this song very high potential, but it was nowhere near fulfilled. To the top 10 we go…
THANK GOD (feat. KayCyy)
This song doesn't officially list KayCyy as a lead feature, but he does give vocals in the middle and end of the first part of the song. However, it isn't really memorable and for all of the ranting and whining he did on Twitter because he wasn't credited in the song's title, it doesn't live up to any expectations. Scott has a good verse in part two of the song, where he again does a rapid fire verse at the second part of the song.
SIRENS
This song is good, but not great. The production is the standout on this record and Scott has a good verse, but it's just a good song on a great project.
I KNOW ?
This song replaced "Mafia", a song released in November of 2021. While I personally like "Mafia" more than "I KNOW ?", this song is a nice and laid back song that doesn't garner any real complaints.
TIL FURTHER NOTICE (feat. James Blake & 21 Savage)
While this is an amazing outro track, 21 Savage doesn't quite fit in. James Blake, Metro Boomin, and Scott all do well in their roles, but 21's piece doesn't fit the puzzle.
HYAENA
This is easily one of the best album intros of the year. A consistent and continuous flow from Scott while setting a great tone for the album. Now to the top 5.
MY EYES (feat. Sampha)
Like "THANK GOD", Sampha isn't featured in the title, but unlike KayCyy, he delivers a calm and collected verse in the first part. Scott snaps on his second part with a high intensity beat switch. The only complaint I have with this track is that I wanted more of a second part, but the song is still very good.
MELTDOWN (feat. Drake)
While this song doesn't quite top Sicko Mode for the best Drake and Travis Scott collaboration, it is for sure an amazing song. Drake throws shade at Childish Gambino, Pusha T, and Pharrell in one of the best verses I've heard from him in a long while. Scott comes in with a trumpet fueled beat and a great flow and verse in both parts. Onto the podium…
3: SKITZO (feat. Young Thug)
6 minutes, 3 different beats, and a memorable Young Thug feature later, SKITZO takes bronze. Scott relentlessly attacks the beat on all 3 parts, and Young Thug delivers a great feature that contributes to the song. For sure worth the 6 minute listen. Now for the runner up…
2: FE!N (feat. Playboi Carti & Sheck Wes*)*Sheck Wes feature is version-dependent
FE!N takes silver. Sheck Wes becomes the only member of Scott's Cactus Jack label to make an appearance on the album over artists such as SoFaygo and Don Toliver, and he delivers a pretty good verse for someone who hasn't been releasing music consistently for nearly half a decade. Playboi Carti debuts his deep, grimey, and dark new voice, one polar opposite to the high pitched "baby voice" on his 2020 project Whole Lotta Red. Great production choices in the synths for the beat, they truly make this song so much better, but not good enough to take gold.
1: TELEKINESIS (feat. SZA & Future)
Two relaxed Future guest verses. An ultra passionate SZA feature. A perfectly mixed Travis Scott verse. What else could you possibly want from this song? This song reached its maximum potential with Scott's stadium-like, echoing vocals, along with Future's almost-satisfied verses. Like "GODS COUNTRY", this song was a scrap off of Kanyes' Donda. SZA delivers her most heart filled feature I have ever heard from her on a beat switch that adds a whole other layer to the song. This is easily my favorite song of the year so far.
Final Review:
Well, here is my review of UTOPIA by Travis Scott. I originally listened through the album twice, and rated it a 9/10 at the end of July. I have listened to it in full around 5 times while writing this article, and my new rating of this album is a 9.4 out of 10. It kept growing on me with each listen, and I believe this is album of the year in all of rap, if not all of music. It is an ultra unique and special experience, and I completely recommend listening to the entire 1 hour and 13 minutes.
Whether or not you love or hate Travis Scott, there is little doubt of his musical genius.