QRU? Senior Jordan Francis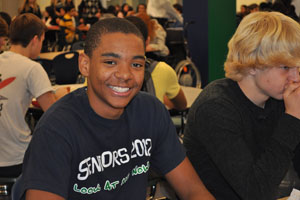 Hang on for a minute...we're trying to find some more stories you might like.
Senior Jordan Francis was recognized as the athlete of the week last week by the leadership class.
What sparked your interest in basketball?
My dad used to play throughout high school and college, so it was natural for me to try it out. I liked it so I kept playing.
What is your connection to basketball?
When I'm out there to play, I don't care about what's going on around the court. You just focus on the game and do your best to make the team win.
What is the coolest basketball-related thing you have ever done?
During the summer of 2011, I went to an Amateur Athletic Union Basketball event. It's a national thing where the best players in the area go to play tournaments. I've gone there for four years and I also went where I lived in Texas.
How did you feel about winning the athlete of the week?
I wasn't overactive about it. I thought it was pretty cool, and of course my parents were happy and excited about it.