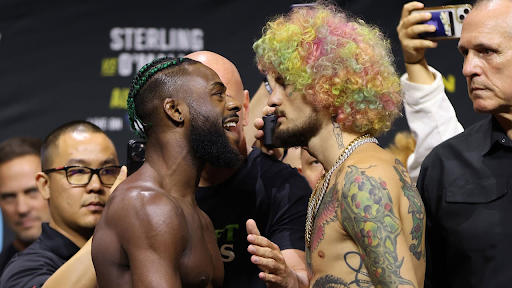 O'Malley struck Sterling with a vicious knockdown that went viral and was viewed by millions across the globe. Among many exciting matchups, the showdown between these two fighters captured the excitement of fans and experts alike.
The Ultimate Fighting Championship (UFC) has long been a platform for showcasing the most electrifying and competitive mixed martial arts (MMA) battles. UFC 292's main event promised to be no exception, featuring two formidable fighters with substantial experience: 'Suga' Sean O'Malley and Aljamain 'Funk Master' Sterling.
Aljamain Sterling, also known as 'Funk Master', is a seasoned MMA fighter who competes at the bantamweight division of the UFC. Sterling, of New York, boasts a skill set that combines striking, grappling, and submission techniques. His wrestling background gives him an extra edge in takedowns and control on the ground, making him a formidable opponent in any scenario. Sterling's record showcases his dedication to the sport, with impressive wins against tough opponents.
Sean O'Malley, often referred as 'Suga', is a rising superstar in the MMA world. Hailing from Montana, O'Malley is known for his flamboyant personality and striking prowess. He possesses a background in kickboxing, which translates to his dynamic and unorthodox striking style. O'Malley's unique ability to land precise and powerful strikes from various angles has earned him a substantial following. Despite his relative newcomer status, O'Malley's undefeated record and highlight-reel knockouts have marked him as a must-watch fighter.
Story continues below advertisement
Going into the matchup, Sterling controlled and dominated round one with an electrifying 20 strikes thrown. As Sterling kept pushing O'Malley to the octagon's fence, it was taking a toll on his stamina and focus. Although Sterling was quickly losing speed, he closed the first round with 13 strikes landed in contrast to O'Malley's 8 strikes landed.
Going into the second round, O'Malley knew he had to make something happen to win the round, possibly the match. With Sterling exhausted, O'Malley knew he had the upper hand and took advantage of it completely. O'Malley delivered a brutal knockdown to Sterling, then proceeded to strike Sterling when he was down to force the referee to close the match and give him the victory.