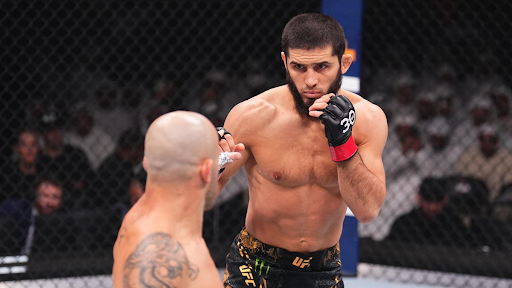 UFC fans from all corners of the globe eagerly tuned in to witness the highly-anticipated rematch between two titans of the octagon, Alexander Volkanovski and Islam Makhachev. The showdown unfolded on a thrilling Saturday night, October 21st, leaving the entire UFC community buzzing with excitement.
Both Alexander Volkanovski and Islam Makhachev are undeniably prominent figures in the MMA world. Volkanovski, hailing from Australia, had previously held the coveted UFC featherweight championship, earning recognition for his unparalleled skills and unwavering work ethic. In contrast, Makhachev, representing Dagestan, had emerged as a rising star in the lightweight division, showcasing his formidable talents and boundless potential.
Their initial encounter had culminated in a tightly contested split decision victory for Makhachev, a result that was met with mixed reactions. However, Volkanovski, known for his unyielding determination, promptly extended the offer for a rematch, setting the stage for a dramatic showdown.
In terms of fighting styles, the clash between Volkanovski and Makhachev was a classic matchup of striking versus grappling. Volkanovski was a master of striking techniques, well-versed in both striking combinations and takedown defense, making him an incredibly well-rounded fighter. On the other hand, Makhachev possessed a sambo background, rendering him a grappling specialist with exceptional expertise in ground combat.
Story continues below advertisement
The pre-fight projections from MMA and UFC professionals hinted at a contest where Volkanovski would aim to keep the fight standing while Makhachev sought to take his opponent down to the mat. As soon as the two fighters stepped into the octagon, the electric atmosphere inside the arena foreshadowed the epic battle that was about to unfold.
Right from the opening bell, the action was intense, living up to the anticipation that had been building for this rematch. The two athletes wasted no time in engaging each other, with their distinctive fighting styles colliding in a spectacular display of skill and determination.
As the first round approached its climax, a pivotal moment occurred that would ultimately seal the fate of the fight. Makhachev unleashed a devastating kick that caught Volkanovski off guard, sending shockwaves through the crowd. Volkanovski was stunned by the ferocity of the strike, and it was a matter of moments before Makhachev capitalized on this opportunity.
With approximately three minutes remaining in the first round, Makhachev secured a victory via knockout, asserting his dominance and solidifying his status as the true champion of the lightweight division. The UFC world was left in awe of the thrilling rematch, and the outcome added another chapter to the ever-evolving saga of mixed martial arts. It was a night filled with unforgettable moments and remarkable performances, engraving the names Alexander Volkanovski and Islam Makhachev even deeper into MMA history.