QRU? Career specialist Karen Burke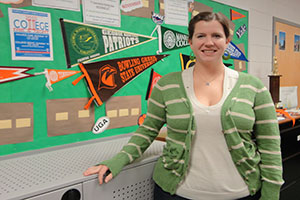 Hang on for a minute...we're trying to find some more stories you might like.
Karen Burke has been the career center specialist at South Lakes for the last four years. She advises students on post-secondary school options and offers guidance to all students about career options as well.
Why should students visit the career center?
As the career center specialist, I am able to control post-secondary planning after high school. This includes college planning, career training, and military placement.
What are the advantages of going to the career center?
I'm an extra resource in addition to a counselor. I help students with planning and narrowing down their options. I assist with SAT registration, and college and career counseling guidance.
When can students come to you for help?
I am available during lunches and learning seminar. Students are encouraged to set up appointments if they have questions.
What if students have specific questions about their college or post-secondary options?
College representatives have set up dates to visit South Lakes to answer specific questions about their school and inform students about their school. If students are considering going into the career field directly after high school, I help with resume building as well as interview skills. For students interested in enlisting, I have resources for the ASVAB test, given in December, which is a placement assessment for military positions and jobs.
How can students earn money for scholarships?
The more I know about a student, the more I can help, especially with scholarships. There are thousands of scholarship opportunities students can look up on Family Connections. Scholarships are open to all age groups but more are prevalent for juniors and seniors.
Is the career center open to all students at South Lakes?
Yes, I would like to have all grades levels come in the Career Center seeking help because the earlier they visit, the more opportunities I have to help.