QRU? freshman football player Alex Stoffel dresses for the varsity football team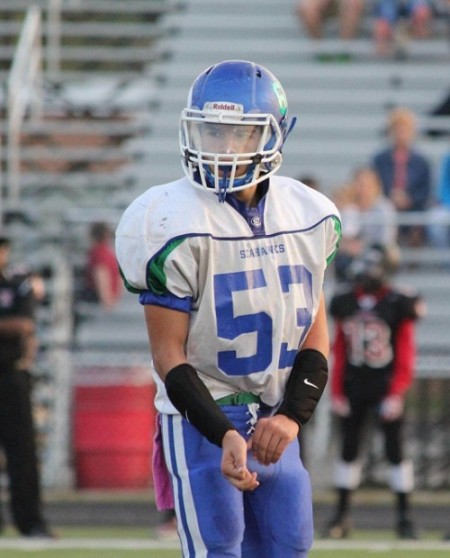 Freshman football player Alex Stoffel was asked to dress for the south lakes varsity football team.
What does football mean to you?
I had a lot of family that played football so I've grown up loving it. It's always been an important part of my life.
Do you enjoy football?
I enjoy playing as a family with my team because I've been playing with most of the same people my whole life. It's a very fun sport and a way to let out my aggression.
How long have you been playing football?
The first sport I ever played was baseball I was also on a swim team but I didn't really enjoy it, so in 2007 I joined the Reston youth football team. I've been playing for about 8 years now and I love it.
Has anything worth talking about happened in your past football career?
I've won 2 championships and was nominated line man of the year for the Reston Seahawks. I was asked to play for several private high schools and was also nominated for the hall of fame for the FYCFL.
How do you balance school and football?
Usually practices are every weekday so I try to get my work done on weekends or after practice. We also get one hour of study hall before practices so I try and do work then also.
How would you say SL football is doing this year?
The team has definitely improved since last year I think it's because we play as a team and family, unlike last year where most players played for themselves.
Do you like the coaches?
Yes. I think they can be harsh on the football field because they want us to succeed but they're like family to me off the field.
How does it feel to be asked to dress for the varsity team?
I never thought that I would be asked. But I guess the coaches saw potential within my football skills. I was definitely shocked but I was so excited. I'm always prepared to go in and play when the team needs me.
Do you hope to take your football career past high school?
Yes I hope to excel in high school football and play for a division 1 college and hopefully get a scholarship and continue on from there.
Leave a Comment