QRU? debate team member Amel Aksouh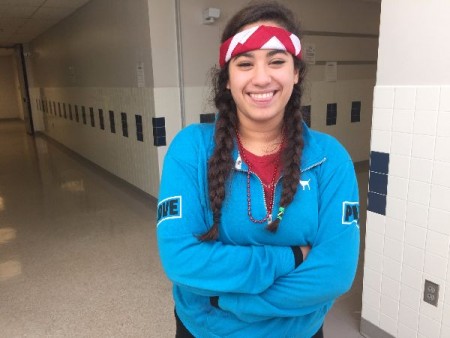 Amel Aksouh, talks about her life at South lakes and the clubs and extracurricular activities she participates in, as well as her experience in her freshman and sophomore year.
How was your freshman year at South Lakes High School?
It was interesting, not so much academically difficult, but socially difficult. Especially balancing friends with school. I got a real taste of what South Lakes was going to be like for the next four years.
Did you happen to do any clubs last year after school?
No, my outside sporting events took that opportunity away from me.
Was it hard to balance school with sports?
Yeah it was because practices were almost everyday and I would get home quite late, it was very exhausting.
How are you doing so far this year? Is it what you were expecting of your sophomore year?
I'm doing fine I guess, it is a lot of work right now. I was warned ahead of time of what to expect this year. Just a lot of work and long hours studying.
Besides your everyday classes, are you doing any clubs or extracurricular activities?
I am currently doing debate club at school, and I'm hoping to do gymnastics this winter.
What was the driving factor for you to participate in debate club?
I really like when I can make a good argument and manipulate others into admitting the opposite. I tend to be vocal about my opinions, especially when someone says a bad statement/idea.
Did political debates or politics in itself influence you at all?
No not at all actually, I've always wanted to be a lawyer to be quite honest.
Is there a particular teacher that runs the debate club??
No, there is a variety of teachers like Mrs. Samba and the German teacher that run the club..
Would you continue doing this club in your future years at South Lakes?
Yes, I definitely would. I found a club that I thoroughly enjoy.
Leave a Comment