Class of 2021 meeting updates
With 114 days (including breaks and weekends) until graduation for the class of 2021, administrators brought the senior class into a virtual meeting to discuss what the remainder of the year will include. Students were updated on programs available and granted the opportunity to ask questions about the return-to-school plan.
Graduation
Students are still required to fulfill all requirements to get their verified credits and graduate. Senior class Principal Mr. Luongo addressed the class, saying, "Make sure that you graduate."
Mr. Luongo said that there will be a graduation event of some sort. Fairfax County has not made it clear what kind of ceremony will be permitted, but South Lakes has pledged to ensure there will be a celebration. The class of 2020 did "drive thru graduations" across the country and county.
Senior class due payments are still required. They are currently $50 and to be paid on My School Bucks. Dues may be raised depending on the graduation plan, but they will currently cover the costs of all graduation robes and diploma materials.
Students should fill out this form to submit their graduation robe measurements.
Class Events
There will be events each month for seniors. Students who remain online for the duration of the school year are still permitted to attend all in-person events.
Mr. Luongo said that they want there to be a "relaxed environment for you to come back and get back into the swing of school."
February 12, 2021
There will be a "We Love Our Seniors" event on Friday, February 12 from 3:15 to 4:15 PM. There will be "treats" and chairs outside Door 1 for seniors to enjoy. Masks are required and it is recommended that students bring blankets due to the low temperatures. Students can sign up to attend here.
Wall Signing
Students already began singing the senior wall, a classic South Lakes senior tradition. Due to plummeting temperatures and icy conditions, the school had to post-pone the second half of the signing. This means that a large portion of the senior class is yet to sign the wall.
The administration says that students will be able to finish painting, but it is required that the day is below 40 degrees (F), and fully dry. With historically frigid weather slamming the DC area, these conditions are increasingly rare. The school is yet to announce the new date.
Ethics Day
Ethics Day is a classic senior event at South Lakes. It serves as a chance for the community and seniors to come together. The event will be fully online this year, with tech assistance from Google.
Students can sign up to attend different sessions and do not have to stay for each lesson. There will also be a job fair this year (the list of businesses is to be announced).
The sessions include: Digital Citizenship, Unconscious Bias, Resumes & Interviews, Job Fair.
The conference is not mandatory. Students can register here.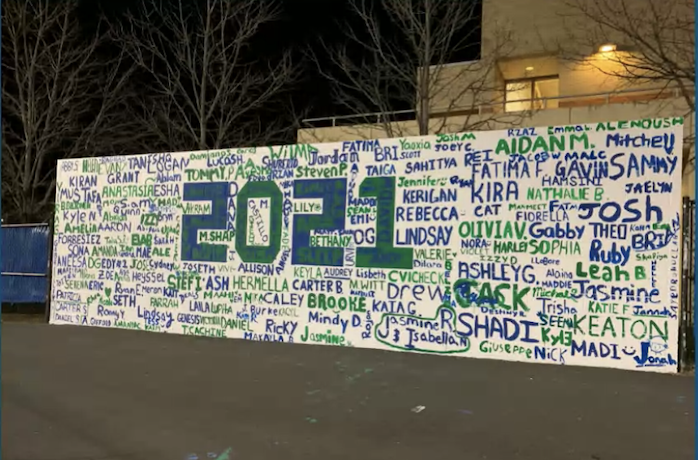 Returning to School
Parking passes will be "first come first serve." Students still have to apply through the activities office. The parking will be split due to the alphabetic organization of the returning groups.
Students can watch School Board meetings here. They can also anticipate virtual meetings for all South Lakes families with information regarding the logistics of the reopening.
The school year will not be extended for seniors.
For those not in the Class of 2021 Google Classroom, use this code to join: mcbwxtx.