Things for the class of 2021 to do before graduating
This year was not what South Lakes Seniors were expecting. Seniors haven't been able to do a lot of the traditional activities but here are some fun things you can do around Reston before you graduate.
Visit all of the lakes in Reston — If you haven't visited all five of the beautiful lakes in Reston you are missing out! There are endless activities you can do on the lakes like paddle boarding or kayaking or even just having a lakeside picnic
Take a picture in front of the senior wall — Now that the senior wall has finally been signed, it's time to take a photo in front of the wall to remember the mark you've made on the school.
Reach out to all the teachers you will miss when you graduate — Whether it's an email, gift card, or virtual email, reach out to any teacher you won't be able to say goodbye to in person. Thank your teachers for everything they have done for you and make sure you let them know the impact they have had on you.
Order a yearbook — Although it may not seem like much, make sure you get one item to look back on your senior year. We didn't have a typical year, but a yearbook is one thing that will allow you to remember the faces and names of all of your peers. (Read more here.)
Senior Sunrise — Senior sunrise is a fun tradition to do with your friends or just by yourself. Wake up just a little early and enjoy a sunrise on a school day or a Saturday.
Write a letter to your future self — Senior year is a huge time of growth and transformation and writing a letter to your future self so you can see how far you have come in a few years. You can either talk about what is happening right now or even talk about where you want to be when you open the letter again.
Make a senior year playlist — What better way to remember your senior year than to make a playlist with all of the popular songs you liked at this time? Looking back at songs you liked and listening to them can bring back memories of high school.
Pull an all-nighter — All-nighters are a right of passage and even if you stay up late just watching shows and movies with friends or stay up to cram for a test they are such a typical high school activity
Drive around Reston — I'm sure there are so many places in Reston that you haven't visited or even haven't even noticed. Just take a drive around and explore your hometown before you move on to other things.
ENJOY! — Senior year is such an exciting time for so many seniors. The future is exciting while you are preparing to move on from high school for good. Enjoy this exciting growth in your life and just relax. School should not be a stressor and really try to make the most of your atypical senior year.
About the Contributor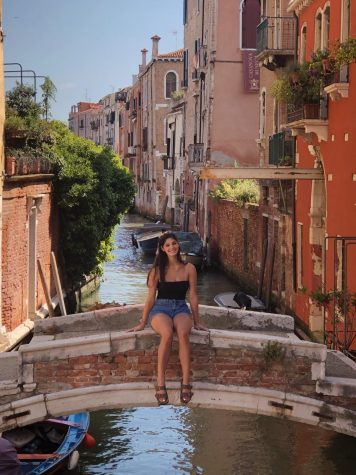 Maddy McFarlin, Entertainment Co Editor
Maddy is a senior in High School and is also a part of the South Lakes Dance Team! This is her fourth year in journalism and she is so excited to be writing...