2021 Oscars predictions
The Oscars, or Academy Awards, is an event that many people look forward to watching every year. It's a informative and fun event where viewers at home get to learn about all the new movies (through brief synopses/trailers), directors, talented actors and actresses and foreign films they should consider looking into and watching in the future while also learning more about the complex processes each film goes through before it's finally finished and ready to be released. One of the best parts about the Oscars, however, is predicting who's going to win the award for each category. Listed below are a few Oscar categories and predictions on who'll win!
↳ ACTOR IN A LEADING ROLE
Nominees: Riz Ahmed – Sound of Metal, Chadwick Boseman – Ma Rainey's Black Bottom, Anthony Hopkins – The Father, Gary Oldman – Mank, Steven Yeun – Minari
Prediction: Chadwick Boseman – Ma Rainey's Black Bottom
Chadwick Boseman's passing back in late August due to cancer was one of the many tragic events that took place in 2020. The Black Panther star was absolutely committed to his roles and his pure, hard work and charisma towards acting is what allowed him to give fans one more movie before his unfortunate passing – "Ma Rainey's Black Bottom."
Boseman played Levee Green in the film, an aspiring musician who also plays the trumpet in Ma's (Ma Rainey who is portrayed by Viola Davis) band. Not only is Boseman's performance extremely poignant as viewers and fans already know that this was the last role and acting performance before his death, but it's also a role that he put his all in to as, for possibly the first and only time ever, we see Chadwick take on a semi-antagonist role as he clashes with Ma Rainey's character over impending success in the music industry while the movie also tackles sensitive topics like racism and how it was harder for people of color to climb their way to fame through in the '20s. Boseman's role as Levee should should win the Oscar for 'actor in a leading role' as he's already won a Golden Globe award for 'Actor in a Drama Motion Picture' and also as a way to honor the actor's tremendous commitment to the role despite the health challenges he was facing as he was filming.
Runner-up prediction: Steven Yeun – Minari
↳ ACTOR IN A SUPPORTING ROLE
Nominees: Sacha Baron Cohen – The Trial of the Chicago 7, Leslie Odom Jr. – One Night in Miami, Daniel Kaluuya – Judas and the Black Messiah, Paul Raci – Sound of Metal, Lakeith Stanfield – Judas and the Black Messiah
Prediction: Daniel Kaluuya – Judas and the Black Messiah
Daniel Kaluuya is no stranger when it comes to acting in riveting, emotional and thrilling movies which is why his recent role as Fred Hampton in "Judas and the Black Messiah" is extremely likely to guarantee him an Oscar win for actor in a supporting role.
"Judas and the Black Messiah" is not just about the revolutionary Black Panther Party, a revolutionary turned Marxist party whose original purpose was to keep African American neighborhoods safe from any police brutality or police threat and the party's purpose gradually changed and they started to focus on other matters that they felt would justify the wrongs for how black people had been severely mistreated and wrongfully enslaved by whites, but the film also focuses on the party's deputy chairman – Fred Chapman (who is played by Kaluuya). Kaluuya's performance as Chapman is truly inspiring as he takes on such a crucial and historic role that highlights how the Black Panther Partywanted to fight against racial injustice while also dealing with underlying forces of nature plotting against the party. With multiple reviews raving about his performance in the film and a Golden Globe under his belt for 'Supporting Actor in a Motion Picture,' Kaluuya is more than likely to take home the Oscar award.
Runner-up prediction: Sacha Baron Cohen – The Trial of the Chicago 7
↳ ACTRESS IN A LEADING ROLE
Nominees: Viola Davis – Ma Rainey's Black Bottom, Carey Mulligan – Promising Young Woman, Vanessa Kirby – Pieces of a Woman, Frances McDormand – Nomadland, Andra Day – The United States vs. Billie Holiday
Prediction: Frances McDormand – Nomadland
As an actress whose won the Oscar twice and been nominated for the award four other times, it's no surprise that Frances McDormand will most likely win another award this year for her role as 'Fern' in one of the most memorable and exquisite movies from 2021, "Nomadland."
In the film, McDormand takes on the role of a widowed woman who has recently lost everything but decides to change her life completely by venturing on a continuous journey in her van – ultimately making her a nomad as plans on traveling for as long as she can without permanently settling down somewhere. McDormand's performance is absolutely captivating as she embraces such a raw and touching storyline, her portrayal of Fern helping her explore a wide range of emotions as the film tackles numerous topics such as loss, grief, self-discovery and acceptance. Despite all the other actresses' amazing performances in their respective films, McDormand's BAFTA win for 'Best Actress' and the plethora of Oscar prediction articles point to her winning the award this year, making her a three-time winner.
Runner-up prediction: Viola Davis – Ma Rainey's Black Bottom
↳ ACTRESS IN A SUPPORTING ROLE
Nominees: Glenn Close – Hillbilly Elegy, Yuh-Jung Youn – Minari, Olivia Colman – The Father, Amanda Seyfried – Mank, Maria Bakalova – Borat Subsequent Moviefilm
Prediction: Yuh-Jung Youn – Minari
Yuh-Jung Youn is one actress that has gained a lot of fame, love, popularity and recognition for her role as Soonja or the incredibly cool, Mountain Dew drinking grandma in the Korean foreign film,
"Minari." Yuh-Jung Youn takes on a very loving and tender role in "Minari" as her character, Soonja, moves to the states from South Korea in order to take care of her grandchildren while her daughter and son-in-law focus on trying to restart and adjust to living in the U.S. so they can create a better life for themselves and their children.
Youn's acting throughout "Minari" is a great example of how actors' talents, skills and abilities can improve throughout the years. As a result of Youn's magnificent portrayal of Soonja, she's the first ever South Korean actress to be nominated for an Oscar in the 'actress in a supporting role' category and she's also won a BAFTA award for 'Best Supporting Actress' which is all the more reason why Yuh-Jung Youn has been anticipated to take the win for this 'actress in a supporting role' Oscar award. Not to mention, out of multiple articles that have been published about the predictions of who will win the Oscar awards many articles predict that Yuh-Jung Youn will make history and win the Oscar, making her the first ever South Korean actress to win in this category.
Runner-up: Glenn Close – Hillbilly Elegy
↳ MAKEUP AND HAIRSTYLING
Nominees: EMMA (Marese Langan, Laura Allen and Claudia Stolze), Hillbilly Elegy (Eryn Krueger Mekash, Matthew Mungle and Patricia Dehaney), Ma Rainey's Black Bottom (Sergio Lopez-Rivera, Mia Neal and Jamika Wilson), Mank (Gigi Williams, Kimberley Spiteri and Colleen LaBaff), Pinocchio (Mark Coulier, Dalia Colli and Francesco Pegoretti)
Prediction: Ma Rainey's Black Bottom
"Ma Rainey's Black Bottom" may be a movie you can watch on Netflix with your family and not experience in theaters but that doesn't make it any less of a film, especially when it comes to the talent behind the makeup and hairstyling department which makes the film a very probable winning contender for this Oscars award category.
If you've ever watched a movie that takes place in the 20's, there's a good chance you noticed the difference between makeup and the way people styled their hair compared to how people do their hair and makeup nowadays. In "Ma Rainey's Black Bottom," the makeup and hairstyling (mainly shown on Viola Davis) is a perfect example of how women preferred to have more smokey and risqué makeup looks, also adding into consideration how women probably wanted to ditch society's standards and style their makeup however they wanted since this time was also during the prohibition era which meant more speakeasies and secret clubs were open at night, signalling a lack of judgement and more of a priority to live in the moment and have fun. Meanwhile, the hairstyling shown throughout the film also highlights how women typically styled their hair in a simple and wavy bob updo while men went for easy, comfortable and slicked back hairstyles – most likely out of convenience and fashion fads.
The makeup and hairstyling team for "Ma Rainey's Black Bottom" truly worked hard on appearances, authenticity and accuracy when it comes to the multiple hairstyles and makeup looks shown throughout the film and they undoubtedly outshone themselves. Seeing as the film has already won a BAFTA award for 'Best Makeup & Hair,' it's unlikely that "Ma Rainey's Black Bottom" won't be claiming the win for makeup and hairstyling.
Runner-up prediction: Hillbilly Elegy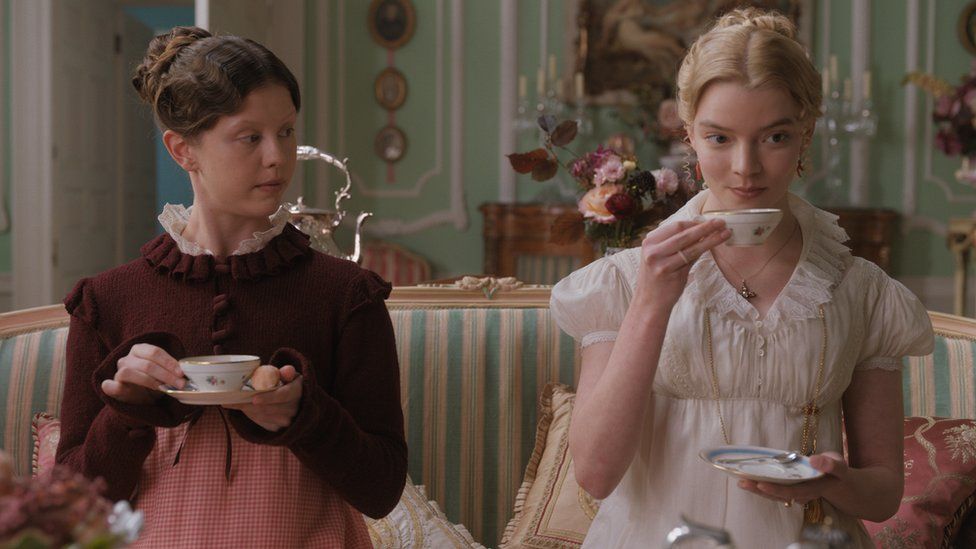 ↳ COSTUME DESIGN
Nominees: EMMA (Alexandra Byrne), Ma Rainey's Black Bottom (Ann Roth), Mulan (Bina Daigeler), Mank (Trish Summerville), Pinocchio (Massimo Cantini Parrini)
Prediction: EMMA
Jane Austen's novel, "Emma," once again comes to life in this upbeat and aesthetically pleasing 2020 film. While all the other films deserve acknowledgement and recognition for their absolutely gorgeous costume designs, "Emma" seems to be the most ideal winner for this Oscars category.
Because "Emma" is supposed to take place during the 1810s, a lot of thought, color coding, altering, time and precision must've gone into designing each of the costumes to ensure that they matched the fashion and trends during the early 19th century despite the fact that the outfits may seem a bit minimalistic. However, the minimalism of the outfits could technically be considered as an homage to the influence of recent minimalistic trends and how people have started gravitating towards minimalism because of how simple yet visually appealing it is. "Emma" may not have won many awards for costume design but the film's alluring and aesthetically pleasing costumes make up for the potential awards while also making the movie a very likely winning candidate for the 'costume design' Oscar award.
Runner-up prediction: Ma Rainey's Black Bottom