Tokyo Mew Mew New Anime Premiere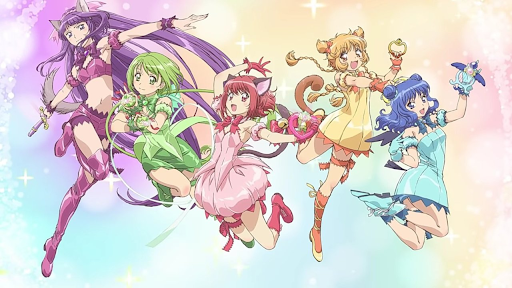 A classic iconic magical girl anime and manga series known as Tokyo Mew Mew, has announced it will receive a reboot of the original 2002 anime. It has been in production for the past two years and was announced in February 2020, and its reboot has a website. Tokyo Mew Mew New features a manga which will be sold on the Kodansha website, and has a Twitter promoting the release.
Reiko Yoshida, a Japanese screenwriter, worked alongside Mia Ikumi on the series. In recent news, it was announced Mia Ikumi passed away due to subarachnoid hemorrhage. Ikumi passed on March 7th, 2022, at the age of 42 years old, and she was the manga illustrator. The Tokyo Mew Mew manga ran from September 2000 – February 2003, it falls into the category of shōujo manga. This manga demographic is catered towards young females and often features cute themes such as romance.
Before pitching the idea of Tokyo Mew Mew, Ikumi had also serialized a one-shot manga known as Tokyo Black Cat which featured Hime Azumi as the main protagonist. Kodansha hired Reiko Yoshida to be the story supervisor of Tokyo Mew Mew. The first volume was published on February 6th, 2001, and on the cover it included Mew Ichigo. The English publisher of the manga series is TokyoPop.
Within Tokyo Mew Mew, the story follows a teenage magical girl group infused with the DNA of endangered species to fight against the threat of alien invasion and wildlife destruction. The magical girl group also has a headquarters known as Café Mew Mew. Meanwhile, the main protagonist, Ichigo Momomiya, hopes that her crush, Masaya Aoyama, will accept her for who she is and attempts to keep her superpowers a secret from him.
The original Tokyo Mew Mew anime featured 52 episodes in Japanese, meanwhile the English version had 26. The anime television series ran from February 3, 2002 – January 26th, 2003. Tokyo Mew Mew is also known as Mew Mew Power which was distributed by 4Kids Entertainment. Mew Mew Power is the English language dub of Tokyo Mew Mew. Additionally, 4Kids has been known for its controversial cuts and edits in other anime. 4Kids Entertainment cancelled Mew Mew Power, failing to acquire the licenses necessary. The English dub would air from February 2005 to July 2006.
Tokyo Mew Mew New has also had a collaboration with a Japanese dress-up game known as Alice Closet. It is unknown if the anime will stream on any platforms, however, it will release in July 2022 according to Distractify.