Dolly Parton's first-ever grand rock album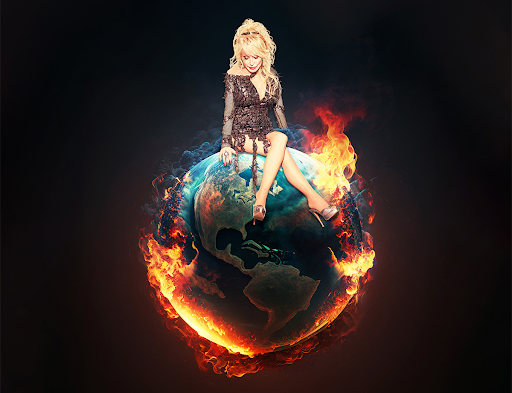 Dolly Parton, an iconic country singer, has released her first-ever rock album. Since Parton was inducted into the Rock N' Roll Hall of Fame, she hoped to compose a rock album. The 58th Academy of Country Music Awards kicked off with Dolly Parton performing 'World On Fire'. This is the first track from her album, and it has not been released entirely as of this May.
"I'm so excited to finally present my first Rock and Roll album, Rockstar! I am very honored and privileged to have worked with some of the greatest iconic singers and musicians of all time and to be able to sing all the iconic songs throughout the album was a joy beyond measure. I hope everybody enjoys the album as much as I've enjoyed putting it together!" stated Dolly Parton on her website.
She collaborated with an all-star artist lineup on the 30-song record, featuring 9 original songs and 21 famous Rock hits. Rockstar will be available as a 4 LP set, a 2 CD set, a digital download, and on every streaming platform on November 17th, through Butterfly Records with distribution by Big Machine Label Group.
In her song, she did not name-drop any politicians, however, the corrupted cynical exploitative nature of politicians. Dolly has never really shared her ideologies explicitly; however, she remains on the virtue of benevolence, love, and embrace. She contemplates on how politicians "wouldn't know the truth if it bit 'em" and "lost sight of common decency, of wrong and right." She criticizes how all have become bigoted toward their political ideological stance and only care for themselves. Parton has kept her viewpoints to herself, and she wishes to be inclusive and philanthropic to all.
Simultaneously, Parton has remained outside of politics, and she has declined both the Trump and Biden administration. She has rejected the Presidential Medal of Freedom twice during Trump's term, and likewise, she rejected the same from Biden. Furthermore, her track, '9 to 5', was initially the #MeToo's anthem before it was established, although she disagreed with Warren. Elizabeth Warren implemented it into her campaign during that time in 2019, despite Dolly being against her viewpoints.
Considering the catastrophes and controversies that have occurred in modern society, Dolly stands unbroken and continues with her philanthropic values. Her song addresses not only American politics, but also global ones, given the corruption that takes place frequently. She reaches out globally, informing all that there are plenty of opportunities to make a difference. Dolly Parton's Rockstar album is available to pre-order and pre-save digitally, and its vinyl will be made. All who have pre-ordered her content will await its global worldwide release on Friday, November 17th, 2023.
"This is a song I felt very inspired to write, I think it speaks about everything and to everyone this day and time. I hope it is something that will touch you and maybe touch enough people to want to make a change for the better." — Dolly Parton