Rising violence against AAPI nationally & in the DMV
Violence against Asian Americans and Pacific Islanders (AAPI) has spiked within the last year. 140 violent incidents against Asian people have been reported within the last year in DC, Maryland and Virginia (DMV). After a shooting in Atlanta, Georgia that targeted Asian women, concerns have been heightened. Racist violence against the elderly, women and local residents has roots much deeper than the pandemic.
A DC tea shop owner, Yunhan Zhang, who was pepper sprayed and attacked in his own store, told DCist, "This type of hate crime against Asian Americans have been existing in America for a very long time. It did not begin in 2020. It did not start with COVID-19."
Violent incidents did not simply derive from the racist labeling of the "kung flu" or damaging political cartoons, but the pandemic has acted as a boiling point of sorts. Racism against Asian people rose dramatically during the pandemic, as lawmakers and the former President Trump scapegoated Asian people and China. The US' history of the exploitation of Asian people is long and painful, and pandemic fanned these flames.
Of the nearly 4,000 violent attacks against Asian people in the United States within the last year, verbal assaults were the most common nationally, as well as locally to the DMV. The Trump White House's use of derogatory language for a great deal of the pandemic is being blamed making this appear acceptable, though verbal abuse against AAPI has been brushed off for a long time. Anti-Chinese rhetoric at the center of U.S. foreign policy has additionally stirred a great deal of Conservative panic regarding Asian people. The Trump administration targeted China, including economic battles, while the Biden administration seems to be trying to find its footing. They've just begun the first US-China meetings of the new administration, meeting in Anchorage, Alaska on March 18. During House hearings on Asian vilence, a GOP Texas representative used his time to bash China, invoking statements heavy with red-baiting, "We should restore order by tamping out evil actors, not turn America into an authoritarian state like the Chinese communists who seek to destroy us."
The concept of the model minority myth is a big culprit. It trapped Asian Americans into conforming to a white supremacist construct, making racism against them a commonplace occurrence. The model minority myth forced Asian people in the U.S. to assimilate to a white ideology of what is acceptable, whilst intentionally ignoring the fact that Asian contributions to society and struggles can coexist. This is part of why the physical violence against elderly Asian people has occurred in the open with little retribution. Shortly after the violence in Atlanta, on March 18, a 76-year-old woman in California was abruptly punched in the face. She fought back, also sending the offender to the hospital. This was just one example of older AAPI being specifically attacked, as elderly violence has contributed to the thousands of cases this year.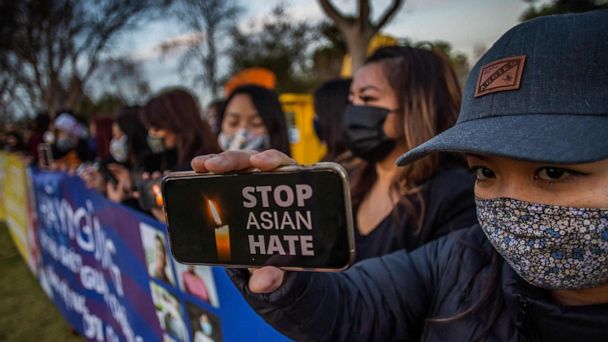 68% of those who faced attacks were women. The fetishization and oppression of Asian women dates back to long before the pandemic. This leaves Asian women particularly susceptible to being targeted. A representative from Asian American Advancing Justice stated about the attacks in Atlanta, "That the Asian women murdered yesterday were working highly vulnerable and low-wage jobs during an ongoing pandemic speaks directly to the compounding impacts of misogyny, structural violence, and white supremacy."
In the DMV region, which has the tenth largest Asian population in the U.S., such a spike in violence has been troubling community members and officials. The Asian-American population has been the fastest growing demographic group in the U.S. Over 221,000 Asian residents live in Fairfax County, making it the second largest demographic group. The largest international immigration group to Fairfax County is people from Asia. Korea, India, China, Japan and Iraq contribute the largest number of Asian immigrants to the Fairfax area, respectively. This increased representation stokes racism sentiments and assaults, similar to the xenophobia that impacts the Latino community.
There is not just outright violence, but it is also microaggressions and casually racist remarks from professors, fellow students and members of one's local community. Derald Wing Sue, Jennifer Bucceri, Annie I. Lin, Kevin L. Nadal and Gina C. Torino from Columbia University wrote, "The 'new' manifestation of racism has been likened to carbon monoxide, invisible, but potentially lethal… Despite the belief that Asian Americans have somehow 'made it' in our society and are 'immune' to racism, widespread prejudice and discrimination continue to take a toll on their standard of living, self-esteem, and psychological well being…Microaggressions have been described as subtle, stunning, often automatic exchanges which are 'put downs.' People of color experience them as subtle insults directed toward them, often automatically and unconsciously…"
The underreporting of hate crimes is another issue facing the community, as hate crime charges are rare and incidents go unreported. This makes data collection difficult and often dissuades people from coming forward about their experiences. Law enforcement agencies are also not required to report this date to the FBI. Wyoming, Arkansas and South Carolina all lack hate crime laws. 17 states do not require data collection. Virginia, Maryland and DC all require reporting. The police Captain Jay Baker of the Cherokee County Sheriff's Office, who is handling the shooting in Atlanta, said that the shooter was "having a bad day." It was then found that Baker has a history of making anti-Asian remarks on social media, including selling shirts that read, "COVID-19: Imported from Chy-na," echoing Trump's phrase. Many say this exemplifies the issues with law enforcement and the perception of violence against AAPI.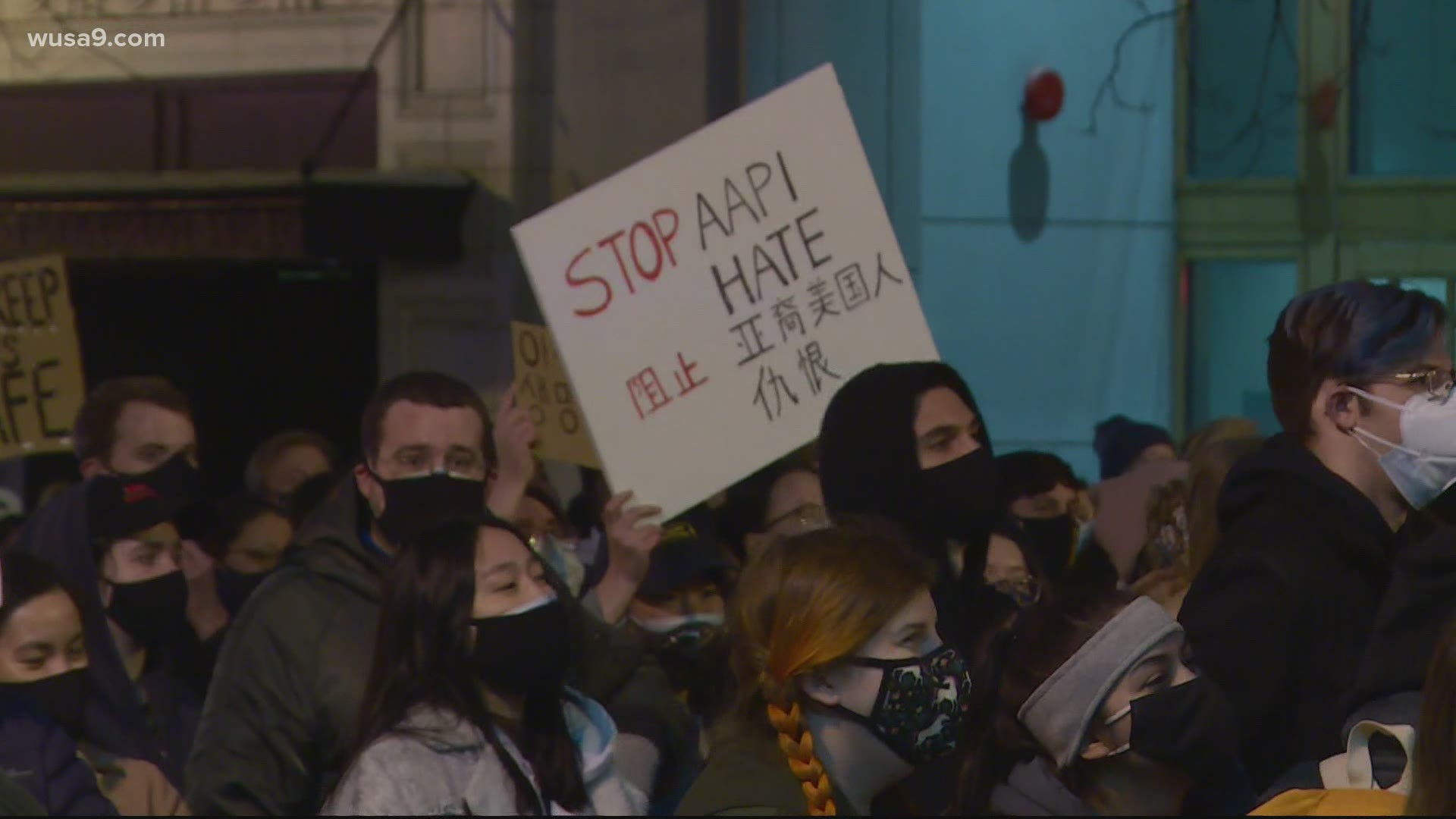 Community-led advocacy groups have been pushing back against the violence. Protestors moved through DC, mourning the loss with a vigil and calling for action. Protestors specifically want the Asian Liason Unit disbanded from the DC Police Department, with the funding going to serving community issues. Danielle Kwon, a protestor, told DCist, "We know, as Asian Americans, that the state and the police, are not there to keep us safe. That time and time again, whether it's through imperialism abroad or through police violence here, that they don't keep us safe."
The House Judiciary panel began hearings on rise of violence and discrimination against Asian Americans, particularly as it has been worsened by COVID and what needs to be done to address it legislatively. However, during these hearings a GOP Texas representative used his time The Biden White House has condemned the violence and Vice President Harris expressed solidarity. President Biden referenced the rise in hate as he addressed the nation regarding the one year mark of the pandemic.
Virginia's Attorney General Herring and Governor Northam both said they were disturbed with the violence. Herring's office released a statement referencing the policy packages passed in the previous year and the launch of No Hate VA, a group that offers resources to "vulnerable communities." He also referred to the white supremacy in Virginia, which has been ingrained in the commonwealth's present and past. Virginia's senators said they were disappointed by the Department of Justice's lack of action. No new legislative efforts have been forth at a state level at this time.
Northam said, "This is the latest in a series of heinous attacks against Asian Americans across this nation, but sadly these are not isolated events. Hate and bigotry have no place in our Commonwealth or country. We all have a responsibility to condemn these racist acts and make clear that this is not who we are as Virginians, or as Americans."
Those looking for local AAPI outreach programs can visit this guide. To access report a hate crime, visit this site. You can attend bystander intervention training here.
About the Writer
Helen Ehrlich, Editor-In-Chief
Helen is News Editor, Editor-In-Chief, founder and manager of the broadcasting department. She is the head manager of the Sentinel's social media. She...