Midsummer at South Lakes
Shakespeare's A Midsummer Night's Dream took the South Lakes Auditorium under its magical spell the weekend of November 23, 2019. The talented cast truly did the script justice, portraying every whimsical and enchanting detail with maturity and charisma.
Every character brought something truly unique and special to the whole of the production, no matter how big or small. Comic relief was tastefully presented and included throughout each intense, deep, complicated, or exciting scene by one of the most energetic characters Puck, which played as two characters by sophomore Emilia Cayelli and junior Keaton Lazar. They both brought much needed alleviation to strenuous scenes with their hilarious mannerisms and entertaining background actions. Their quirky dialogue was even more absorbing when it was in main focus as well.
Just the opening night doesn't begin to merely describe the magnificence of the two glowing acts. The 17th century language, scripted by none other than the great William Shakespeare, was brought value through the actors' pleasing unique renditions, no matter which character one played. At this show, the characters made it easy to understand Shakespeare's whimsical and strange words.
Not only was the stage blessed with famous phrases and wondrous sentences, but we were also brought relieving song by the soothing voice of the forest's first fairy, played by the enchanting Ireland Dibacco. In addition to song, a bit of dance and motion helped fill the stage. 12 unique fairies accompanied Ireland, as the Queen of the fairies, Titania, portrayed by Maya Berry, tied the scene together along with her King, Oberon, brought to life by Aaron MacDonald.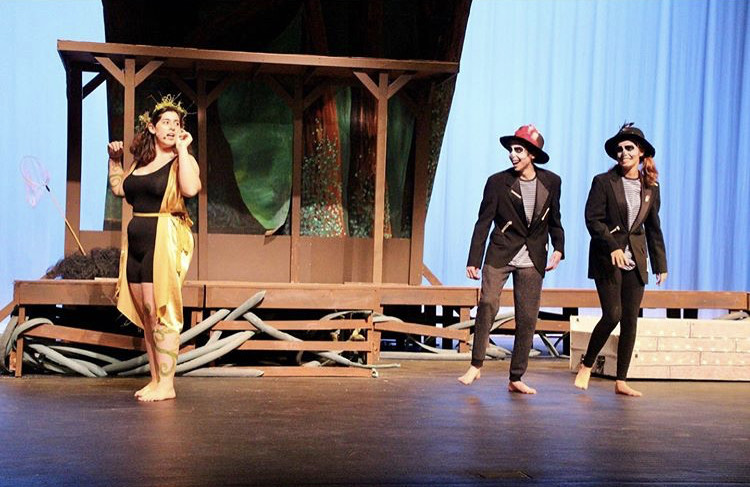 Not only did this sonnet possess a few riveting royals, but they way the actors trained their characters to really take advantage of every accent behind specific syllables, and what each word meant with the inflection they were given. Hypolita, Ryleigh Line, and Theseus, Jonah Kossoy, were meant to be married in act two, but what really tied the knot was their ability to fascinate the audience with every sentence and bring in a humorous aspect depicting the so called play within a play, in which they reacted to.
This brings us to our next important focus, one which will never be forgotten, a hilarious Nick Bottom, animated by the talented Ennis Shabab, lead Peter Quince's play scene with a slap-stick, side-splitting demeanor. His arrogant personality was displayed in his signature pose; an extremely well-thought of mannerism done by Shebab truly brought the audience to tears with laughter. His stunning performance was joined by Peter Quince himself, done by Hannah Donis, who brought a tasteful, level-headed, balance to the scenes. The "play" itself, presented at Theseus and Hippolyta's wedding only exemplified the importance of their presence on stage, and did a brilliant job one at that.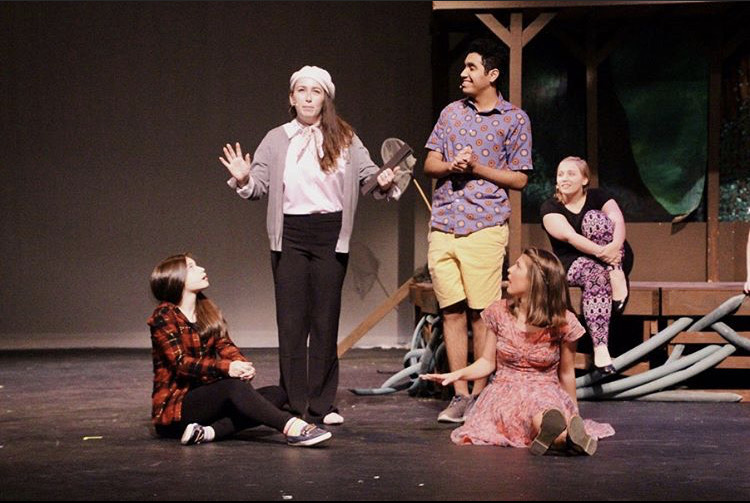 Not to forget our starring love triangle, Helena, Demetrius, Lysander, and Hermia, brought to us by Farrah Greeves, Kiran Drew, Noah Rice, and Serena Mandala-Kol, that stole the show and multiple hearts. These four actors delivered an attractive, yet confusing romance aspect to the show. Not only did they convey every heart-warming and heart-breaking instance with lust and maturity, but these performers definitely made sure the audience was left thinking, contemplating which loving couple would last together. Each brought a stunning touch through their leading characters, but together, they really drove the show through its compelling storyline.
As the audience enjoyed each character within the play, A Midsummer Night's Dream's actors and actresses soaked in every moment during the show for themselves.
Noah Rice, who portrays, Lysander, shared his positive experience: "The show has been an amazing experience and I've made friends and reconnected with so many awesome people! I am most excited for people to see a very intense scene between the four lovers (a fight scene)!"