Pandemic forces South Lakes Theater to get creative with winter show: "A Christmas Carol"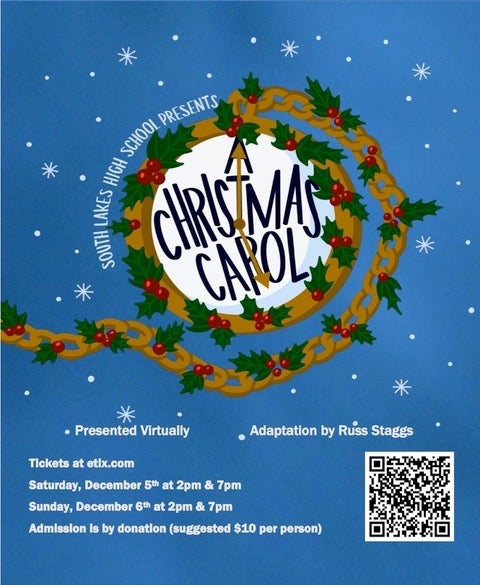 Charles Dickens's "A Christmas Carol," a show with over a 40 person cast, is a logistical Rubik's Cube to take on in a virtual world. Although students have forfeited their opportunity to shine on stage due to COVID-19, the theater director at South Lakes, Eva Forman, carefully cultivated methods to fulfill student's love of theatre while also adapting to the new online setting. As the department perseveres through microphone breakage and camera delays, students are enthusiastic to showcase "A Christmas Carol" Google Meet-style on December 5th and 6th.
The story is centered around a brazenly selfish man, Ebenezer Scrooge (played by senior Delia Hartman). Scrooge, unkind to many, is visited by his late business partner, Jacob Marley, played by junior, Elizabeth Ashby. Marley warns him of the three spirits to call upon Scrooge that night, the ghosts of Christmas past, present, and future. A series of events occur in the three timelines, which push Scrooge towards an epiphany of morality. This 177 year old iconic tale teaches the viewer, reader and audience members, memorable lessons about greed and kindness.
Students involved with the virtual show are content with how the production is being run, in these far from ideal circumstances. "The cast is missing in-person acting of course, but as an alternative, it has been going really well!" Caitlin Quigley, a sophomore and actor, remarked, "It's cool to have different angles and tech settings to portray the spirits and narrators that other shows [we could have chosen this year] wouldn't be as effective at."
Tickets for this year's fall production are free on https://www.etix.com/ticket/v/15621 , donations in addition to tickets are not required, but always welcome. Cast members are excited to showcase this unique production of A Christmas Carol to keep the flame going until they can return.
About the Contributor
Madelyn Bobko, Staff Writer






Madelyn is a sophomore at South Lakes and excited to be a part of the team this year! She loves the performing arts and is heavily...