10 Perfect Winter Reads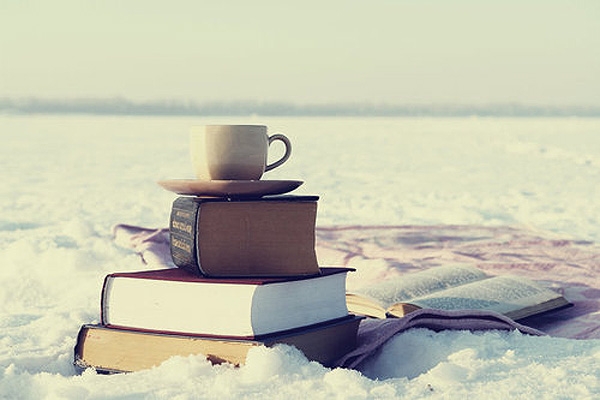 As we get closer to winter and the temperature continues to drop, there's nothing like sitting by the fireplace with a good book in hand. Here are 10 perfect winter reads to cozy up with:
Lovely War by Julie Berry :
Summary: "It's 1917, and World War I is at its zenith when Hazel and James first catch sight of each other at a London party. She's a shy and talented pianist; he's a newly minted soldier with dreams of becoming an architect. When they fall in love, it's immediate and deep–and cut short when James is shipped off to the killing fields."

Kim Ji-young, Born 1982 by Cho Nam-Joo:
Summary: "In a small, tidy apartment on the outskirts of the frenzied metropolis of Seoul lives Kim Jiyoung. A thirty something-year-old 'millennial everywoman,' she has recently left her white-collar desk job—in order to care for her newborn daughter full-time—as so many Korean women are expected to do. But she quickly begins to exhibit strange symptoms that alarm her husband, parents, and in-laws: Jiyoung impersonates the voices of other women—alive and even dead, both known and unknown to her. As she plunges deeper into this psychosis, her discomfited husband sends her to a male psychiatrist.
In a chilling, eerily truncated third-person voice, Jiyoung's entire life is recounted to the psychiatrist—a narrative infused with disparate elements of frustration, perseverance, and submission. Born in 1982 and given the most common name for Korean baby girls, Jiyoung quickly becomes the unfavored sister to her princeling little brother. Her behavior is policed by the male figures around her—from the elementary school teachers who enforce strict uniforms for girls, to the coworkers who install a hidden camera in the women's restroom and post their photos online. In her father's eyes, it is Jiyoung's fault that men harass her late at night; in her husband's eyes, it is Jiyoung's duty to forsake her career to take care of him and their child—to put them first.
Jiyoung's painfully common life is juxtaposed against a backdrop of an advancing Korea, as it abandons "family planning" birth control policies and passes new legislation against gender discrimination. But can her doctor flawlessly, completely cure her, or even discover what really ails her?"

Sweet Bean Paste by Durian Sukegawa:
Summary: "Sentaro has failed. He has a criminal record, drinks too much, and his dream of becoming a writer is just a distant memory. With only the blossoming of the cherry trees to mark the passing of time, he spends his days in a tiny confectionery shop selling dorayaki, a type of pancake filled with sweet bean paste.
But everything is about to change.
Into his life comes Tokue, an elderly woman with disfigured hands and a troubled past. Tokue makes the best sweet bean paste Sentaro has ever tasted. She begins to teach him her craft, but as their friendship flourishes, social pressures become impossible to escape and Tokue's dark secret is revealed, with devastating consequences."

Pachinko by Min Jin Lee:
Summary: "In the early 1900s, teenaged Sunja, the adored daughter of a crippled fisherman, falls for a wealthy stranger at the seashore near her home in Korea. He promises her the world, but when she discovers she is pregnant — and that her lover is married — she refuses to be bought. Instead, she accepts an offer of marriage from a gentle, sickly minister passing through on his way to Japan. But her decision to abandon her home, and to reject her son's powerful father, sets off a dramatic saga that will echo down through the generations."

Where the Crawdads Sing by Delia Owens:
Summary: "For years, rumors of the "Marsh Girl" haunted Barkley Cove, a quiet fishing village. Kya Clark is barefoot and wild; unfit for polite society. So in late 1969, when the popular Chase Andrews is found dead, locals immediately suspect her.
But Kya is not what they say. A born naturalist with just one day of school, she takes life's lessons from the land, learning the real ways of the world from the dishonest signals of fireflies. But while she has the skills to live in solitude forever, the time comes when she yearns to be touched and loved. Drawn to two young men from town, who are each intrigued by her wild beauty, Kya opens herself to a new and startling world—until the unthinkable happens.
In Where the Crawdads Sing, Owens juxtaposes an exquisite ode to the natural world against a profound coming of age story and haunting mystery. Thought-provoking, wise, and deeply moving, Owens's debut novel reminds us that we are forever shaped by the child within us, while also subject to the beautiful and violent secrets that nature keeps."

Monday's Not Coming by Tiffany D. Jackson:
Summary: "Monday Charles is missing, and only Claudia seems to notice. Claudia and Monday have always been inseparable—more sisters than friends. So when Monday doesn't turn up for the first day of school, Claudia's worried. When she doesn't show for the second day, or second week, Claudia knows that something is wrong. Monday wouldn't just leave her to endure tests and bullies alone. Not after last year's rumors and not with her grades on the line. Now Claudia needs her best—and only—friend more than ever. But Monday's mother refuses to give Claudia a straight answer, and Monday's sister April is even less help.
As Claudia digs deeper into her friend's disappearance, she discovers that no one seems to remember the last time they saw Monday. How can a teenage girl just vanish without anyone noticing that she's gone?"

The Ballad of Songbirds and Snakes by Suzanne Collins:
Summary: "It is the morning of the reaping that will kick off the tenth annual Hunger Games. In the Capital, eighteen-year-old Coriolanus Snow is preparing for his one shot at glory as a mentor in the Games. The once-mighty house of Snow has fallen on hard times, its fate hanging on the slender chance that Coriolanus will be able to outcharm, outwit, and outmaneuver his fellow students to mentor the winning tribute.
The odds are against him. He's been given the humiliating assignment of mentoring the female tribute from District 12, the lowest of the low. Their fates are now completely intertwined — every choice Coriolanus makes could lead to favor or failure, triumph or ruin. Inside the arena, it will be a fight to the death. Outside the arena, Coriolanus starts to feel for his doomed tribute… and must weigh his need to follow the rules against his desire to survive no matter what it takes."

Eragon by Christopher Paolini:
Summary: "When Eragon finds a polished blue stone in the forest, he thinks it is the lucky discovery of a poor farm boy; perhaps it will buy his family meat for the winter. But when the stone brings a dragon hatchling, Eragon soon realizes he has stumbled upon a legacy nearly as old as the Empire itself.
Overnight, his simple life is shattered, and he is thrust into a perilous new world of destiny, magic, and power. With only an ancient sword and the advice of an old storyteller for guidance, Eragon and the fledgling dragon must navigate the dangerous terrain and dark enemies of an Empire ruled by a king whose evil knows no bounds.
Can Eragon take up the mantle of the legendary Dragon Riders? The fate of the Empire may rest in his hands."