Plastic Hearts: Miley Cyrus album review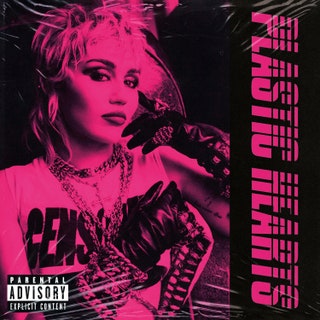 For the past decade, Miley Cyrus has been a household name. We knew her as Hannah Montana for many years. She captured the hearts of young kids and families all across the world playing a teenage girl leading a double life on a Disney sitcom. However, the Miley we grew up with is a lot different then the Miley we know now.
Over the years, she has been through a lot. She has been hated and made fun of many times, but also praised for her versatility and authenticity. Since the Bangerz era in 2013 that shocked everyone, she has released two albums and one EP. None of which got a ton of praise.
In August 2019, Miley and her husband, Liam Hemsworth divorced. Her new album, Plastic Hearts, is the heartbreak album we have all been waiting for!
Over the summer, Miley released the debut single off her album, titled "Midnight Sky." "Midnight Sky" is a catchy disco-like song addressing her love life. She also released a cover of "Heart of Glass," originally sung by Blondie. "Heart of Glass" was immensely praised, some said this cover "saved 2020." The rest was clear, her rock era had begun!
"Plastic Hearts" was released on November 27th 2020. The album has 15 tracks, two of which are covers, "Heart of Glass" by Blondie, and "Zombie" by the Cranberries. She also included a mashup-cover, "Edge of Midnight," a remix of Edge of Seventeen by Stevie Nicks, and her own "Midnight Sky."
Before listening to the album, I had suspected it was going to be very rock-like which isn't necessarily always my favorite. I do love some of Miley's country music and her alto like raspy voice. However, I was pleasantly surprised when I started to listen. She uses her raspy warmed toned voice on ballad tracks like Never be me, High, Hate Me, and Angels like you.
There are also some super impressive features on this album. She collaborated with Billy Idol on the song "Night Crawling." While it was not one of my favorite songs on the album, it was still enjoyable to listen to. Cyrus also teamed up with Joan Jett to sing on the track "Bad Karma." This song has an interesting beat and I really like the way their voices blend together. I saved my favorite feature for last, on the track "Prisoner," Miley teamed up with Dua Lipa for a more upbeat pop sounding song. This track is one of the best on the album, in my opinion.
Although this album is a different version of Miley, it is lyrically similar to some of her past work. She sings about love, heartbreak, doing crazy things and fame. There is a lot of honesty and transparency on this record. We see some of this in the first track, titled "WTF Do I Know," she sings "Maybe getting married just to cause a distraction here to tell you something that you don't know." In these lyrics she is addressing her ex-husband, something that fans were probably eager to hear about. I like that she is direct and genuine in her lyrics, which is something that I feel like a lot of artists don't do nowadays.
My personal favorite song on the album is the title track, "Plastic Hearts"! My first time listening to the album I wasn't so sure about this one, and I couldn't tell if I liked it or not. However, it grew on me and now I am listening to it far more than I should be! The song starts off with bongo drums and a tambourine which continue into the first verse. The piano is added and so is her voice, and it creates a beautiful sound. The chorus is also super catchy and pop like, and easy to sing along to. The chorus ends with her singing, "I just wanna feel I just wanna feel something but I keep feeling nothing all night long". Those lyrics tie into the heartbreak undertone of the album, but the catchy song is enough to mask the true meaning.
Overall, I think that this is Miley Cyrus's best album yet. I fell in love with it the second I plugged in my earbuds and decided to take a listen. If anyone didn't know about Miley's skill yet, they sure will know after listening to this that Miley is talented and a versatile artist. There truly is nothing she can't sing. Whether it be pop, country, or rock, she has proved time and again that she is a force to be reckoned with and nobody can take her talents away. Happy listening!
About the Contributor
Chloe Baker, Staff Writer






Chloe Baker is a junior at South Lakes. She is a staff writer for the Sentinel and this is her first year taking journalism. She...