The Best Song off of Every Ariana Grande Album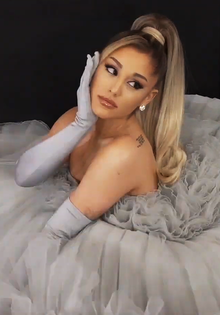 Pop superstar Ariana Grande has been around for years since her days as an actress on Nickelodeon, but her personality and her sound have changed largely over ten years. Some songs, however, stand out more than others.
Her first album, Yours Truly, was released in 2013 while she was still working as an actress, but the vocals on the album shocked the world. At the time, her main audience was filled with the young girls who watched her on Victorious and Sam and Cat, but songs like "The Way" and "Right There" were played over the radio for everyone to hear. Although those songs were popular and showcased her beautiful vocals, this album was filled with songs that felt like empty space. Among the colorless tunes, the song "Tattooed Heart" stands out. The lyrics have the most meaning in Yours Truly, and her voice shines in the key change in the final chorus. The song made a comeback during her most recent world tour, where she performed it for select shows and included the live version on her live album and Netflix documentary.
The sophomore album, My Everything, solidified her stance as one of the top pop girls in 2014. Several tracks from the album spent time on the billboard top 200, such as "Problem," "One Last Time," "Break Free," and "Bang Bang." The album is definitely considered a sister to Yours Truly, with similar songwriting and sound. As for the top track, "Only 1" shines brightest. The runs in the chorus are artfully done, and the song holds a certain amount of nostalgia that encapsulates the album as a whole.
Her third album, Dangerous Woman was one powerhouse of an album. A hard left turn from her previous two releases, the album is filled with hard guitar solos as well as gentle moments on the piano. Due to the size of her fanbase at the time, Grande was bound to spend time on the Billboard top 200, but this album deserved every stream. To listen to the background vocals on "Moonlight" and "Into you" is to descend into heaven. This album was Grande taking a big step into the pop icon world, taking the risk of changing her sound and releasing much more adult-themed songs massively worked out. Anyone in 2016 has heard "Side to Side or Into You". Though "Moonlight" is a top option for the best song, "Greedy" and "Into You" give every other track something to compete with.
In 2018, Grande dropped an album that completely changed her sound. Sweetener is an airy, harmony-filled album that showcases Grande's lower register in the most beautiful ways with some of her best lyrics. This was the album that changed her status from being just any pop artist to being a sophisticated, multi-talented artist. Tracks like "God is a Woman" and "No Tears Left To Cry" topped the charts for weeks, and their music videos gained millions of views quickly on Youtube. Although those tracks are gorgeous, they lack the sentimental element that tracks like "Goodnight n Go" have, with the tribute to one of Grande's favorite artists, Imogen Heap. The top track on this album is absolutely "Get Well Soon". It displays some of Grande's best lyrics as well as more harmonies than the recording software she used could even process. There are so many small elements that pull the song together, loosely guiding listeners through a string of gentle bells and piano notes. "Get Well Soon" has got to be one of the top songs on Grande's discography.
Next came Grande's top album, Thank U, Next. This album was arguably the most lyrically charged with trap beats that juxtaposed Grande's heavenly vocals. Due to the release of this album being so soon after Sweetener, fans like to call the two "sister albums," but they couldn't be more different. There were high ranking tracks on this album, including the Thank U, Next video that has now racked up 751 million views on Youtube. Although some of the picks for best track have been motivated by great lyricism, songs like "In My Head" and "Ghostin" get skipped over because the song "Bad Idea" is simply a masterpiece. The lyrics are typical re-used pop phrases, but if you look past that into the gorgeous instrumental that is isolated in the end of the song, this is the perfect track for a top pick.
Finally, her sixth studio album, Positions. This album was slightly disappointing despite gaining massive amounts of popularity following Thank U, Next. It wasn't lyrically heavy and lots of the tracks sound unmistakably similar. This album is certainly a mix between her previous two albums, carrying the airy and soft musicality from Sweetener, as well as some of the lyrics that she developed in Thank U, Next . It is undoubtedly true that "Off the TableI" (featuring The Weeknd) is the best track off of this album, given that everything about the song was done with grace. The lyrics are beautiful, sonically, the harmonies are striking, and everybody loves a feature from The Weeknd.
All in all, Ariana Grande's many years working in the music industry have provided fans with incredible and groundbreaking music, and her sound continues to grow with her through the ages.