BTS Yet to Come in Busan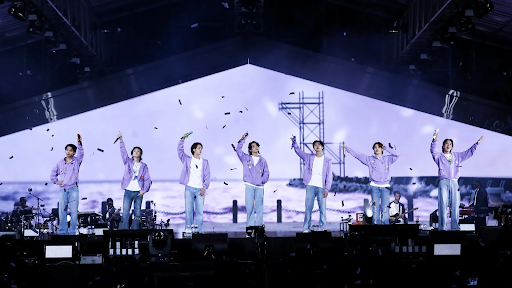 Fifty million viewers worldwide tuned in to watch BTS' concert in Busan supporting Korea's bid to host the 2030 World Expo. The World Expo aims to connect nations by allowing them to showcase their newest technology and share their culture. The concert was completely free and there were many BTS-themed activities all over the city. Many of Busan's landmarks were lit purple, the band's signature color.
The seven-member band took to the stage in Asiad stadium in front of an audience of 55,000 people. An additional 10,000 fans watched the concert in Busan Port on the big screen. Forty nine million people watched the concert via Weverse – a platform run by BTS' label Hybe Entertainment – while another million viewers tuned in via live TV.
BTS' setlist consisted of iconic songs from their discography such as "Butterfly," "Idol," "Save Me," and many more. The band had fantastic choreography throughout the concert and performed their song "Run BTS" live for the first time. Jimin, who grew up in Busan, kicked off the song "Ma City" by welcoming fans to his hometown with iconic landmarks glowing behind the members. The concert took an emotional turn when they performed their songs "Young Forever" and "Spring Day" which both hold very emotional messages between BTS and their fans ARMY.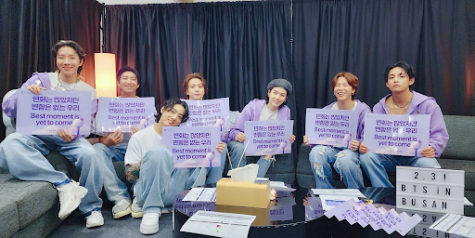 BTS has been appointed as official ambassadors of Busan's World Expo bid. The band was chosen "because they understand the importance of the World Expo and share the same values," according to a statement from BTS' record label Big Hit. Busan is one of four cities running to host the 2030 World Expo. Other cities being considered are Rome, Italy; Odesa, Ukraine; and Riyadh, Saudi Arabia. The vote will be conducted next year. The World Expo is an event that backers say could draw about 50 million visitors, create 500,000 jobs and generate more than $40 billion worth of economic value.
BTS has contributed $29.1 trillion to the South Korean economy according to Forbes. Their Busan concert drew in an estimated $524 million and 100,000 domestic and international visitors to Busan. BTS' economic impact can not be denied, and Korea's expo committee is hoping that this concert will prove why the World Expo should be hosted in Busan.
BTS' future has been shaky since their announcement that they each will be working on solo activities, but BTS' leader RM addressed this and said, "if you believe in us and trust us, we will keep going and continue to share music with you…Please believe in us." BTS blew fans away with their "Yet to Come" concert and revealed their impact to the world.