Renovations for Reston's pools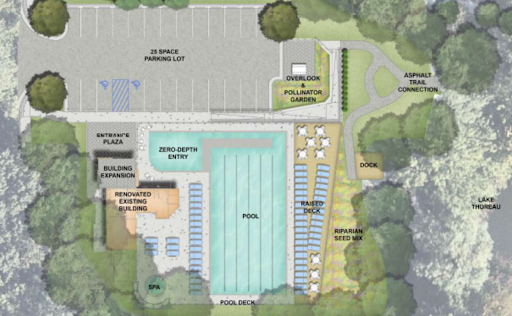 Ever wonder why the Lake Thoreau Pool has been covered in tarp and construction equipment, or why a wheelbarrow full of tiles has mysteriously appeared outside the Glade Pool? They have all been used in the ongoing construction happening at these two Reston pools. The Reston Association, the owner of many swimming pools in the area, has decided it is time for them to receive some upgrades for the summer 2023 pool season.
Glade Pool's upgrades are mainly focused on fixing things that have broken or need to be redone. The jets of the hot tub will be replaced, which have been an issue hindering the experience in the spa area for years. There will also be some renovations to the tiles in the main pool and new concrete on part of the pool deck. The upgrades started on Dec 19, 2022, and should be completed around the start of May 2023.
The Lake Thoreau pool is also in the process of upgrading its facilities, being fully renovated to create an even better experience for patrons through a $3.5 million dollar project. This pool has been closed since 2020, and long standing plans for renovation have only begun in 2022 because of construction delays that were caused by obtaining the necessary permits. The pool deck was fully demolished earlier this year, making way for the new pool design and deck. Lake Thoreau is set to add a completely new pool, deck, sidewalks, parking lot, fencing, new pool building extension, and a raised deck area to the property. The new pool deck will have an entry ramp, which complies with the ADA compliance guidelines for swimming pools. The Lake Thoreau pool renovation recently hit the 25% complete mark, making it on track to be completed in time for summer of 2023, when pools next open.
These pools are a huge part of the Reston community, providing a fun place for families and community members to enjoy the summer weather while staying cool. They are frequented by SLHS students, some of whom had thoughts on the renovations. Emilie Fiske, a 9th grader who swims on the Glade Dolphins swim team during the summer, had some thoughts about the renovations. When asked if she thought the upgrades being made to Glade were worth the noise, she replied, "If they are going to put effort into renovating, then they should have maybe done a little bit more with the renovations. …I think the bathrooms could definitely use some upgrades." Despite her feeling that they could have done more in the renovations, she was looking forward to having the recent upgrades available during the summer, saying, "Just having a new and improved pool will bring joy to the team."